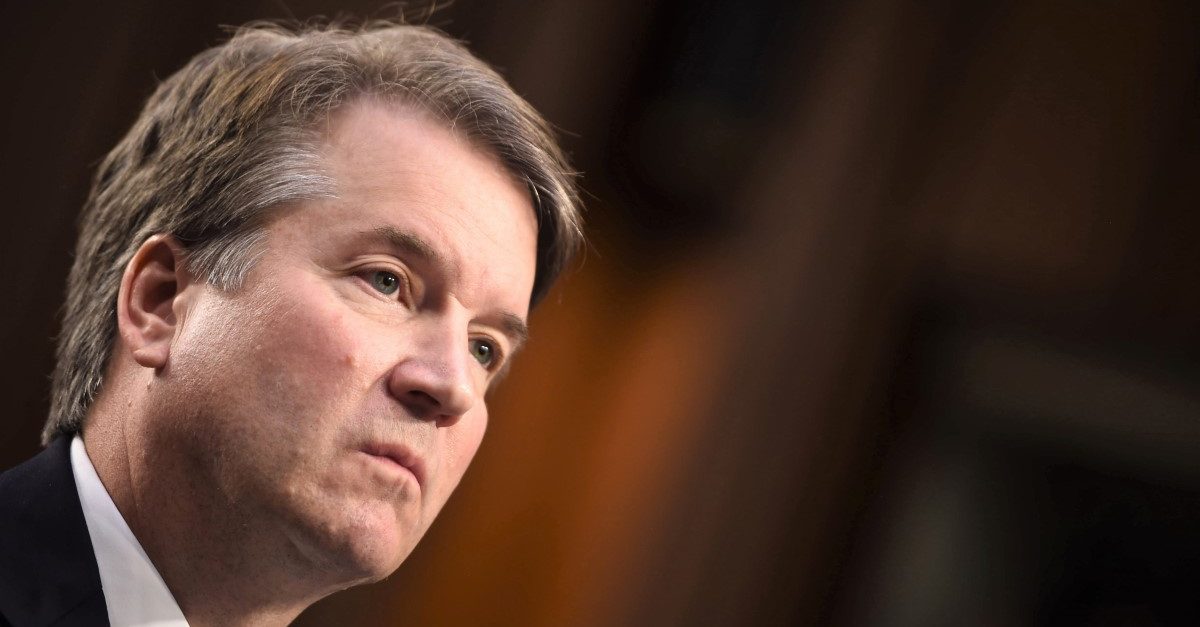 Investigators in Montgomery County, Maryland are reportedly ready to investigate a second sexual assault allegation against Supreme Court nominee Brett Kavanaugh from his days at Georgetown Prep.
According to the Montgomery Sentinel, investigators were not "specific" about the allegation and only spoke on background–not on the record. Investigators are said to be interested in the information after an "anonymous witness" came forward over the weekend.
This third allegation is currently being referred to as a "potential second sexual assault complaint," according to the Sentinel's Executive Editor Brian Karem.
In comments to Law & Crime Network's chief investigative correspondent Brian Ross, however, Montgomery County Police said there is currently no official investigation into the second set of allegations leveled against Kavanaugh in the county. A statement from the department later sent to media elaborated on the allegations contained in the Sentinel's reporting:
At this time we have not received a request by an alleged victim to initiate a police report or a criminal investigation. In some cases there is a desire not to involve law enforcement, and/or initiate a criminal investigation, and we respect that position. We, however, stand prepared to assist anyone who reports being the victim of sexual assault.

Typically, in a sexual assault case, the cooperation of the victim or witnesses is necessary. As with any criminal investigation, a determination must be made as to the jurisdiction where the alleged offense occurred and the specific details of the event to establish a potential criminal charge. Again, our department is ready to investigate any claim of sexual assault that is alleged to have occurred within our county.
Farther down in Karem's report, Montgomery County Prosecuting Attorney John McCarthy said he was prepared to direct the Montgomery County Police Department to investigate any sexual assault charges brought against Kavanaugh, should any alleged victim actually file a police complaint.
McCarthy noted, "But no complaint has been filed or forwarded to this office."
If the Sentinel's reporting is correct, this would mark the third distinct sexual assault allegation against Kavanaugh, beginning with Dr. Christine Blasey Ford's accusation. She alleged that a drunken Kavanaugh attempted to sexually assault her at a party in high school and that his friend Mark Judge witnessed it. Both men have denied that this occurred.
Deborah Ramirez, a former classmate of Kavanaugh's at Yale, came forward on Sunday to accuse the embattled Supreme Court nominee of an indecent exposure incident during a dorm room party.
Per Ronan Farrow and Jane Mayer's report in The New Yorker, "Kavanaugh had exposed himself at a drunken dormitory party, thrust his penis in her face, and caused her to touch it without her consent as she pushed him away."
Kavanaugh, for his part, strongly denied Ramirez's allegation in a statement released by the White House. He said:
This alleged event from 35 years ago did not happen. The people who knew me then know that this did not happen, and have said so. This is a smear, plain and simple. I look forward to testifying on Thursday about the truth, and defending my good name—and the reputation for character and integrity I have spent a lifetime building—against these last-minute allegations.
[image via BRENDAN SMIALOWSKI/AFP/Getty Images]
Follow Colin Kalmbacher on Twitter: @colinkalmbacher
Have a tip we should know? [email protected]