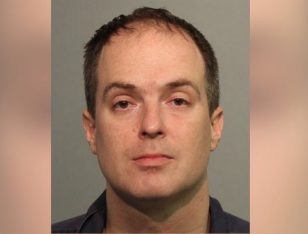 The Florida man who was convicted last month of attempting to murder George Zimmerman was sentenced on Monday to 20 years in prison
A Seminole County jury found Matthew Apperson, 37, guilty of attempted second-degree murder, armed aggravated assault and shooting into a vehicle after a trial last month.  The 20 year sentenced reflects the state mandatory minimum sentence.
The conviction stems from an incident that occurred on May 11, 2015 when Apperson shot into a vehicle driven by Zimmerman. Apperson told police he was acting in self defense, but the jurors found otherwise.
According to the Orlando Sentinel newspaper, Assistant State Attorney Stewart Stone spoke at the sentencing hearing on Monday and explained that had the bullet path been just five inches lower, it likely would've struck and killed Zimmerman.
Judge Debra S. Nelson denied the defense's request to allow Apperson to post an appeal bond, finding he was a threat to public safety based on his actions.
Despite the jury verdict, the newspaper reports Apperson's family members remain convinced he acted in self defense.
Apperson's wife said the decision to prosecute her husband has "given George Zimmerman a golden ticket to go out and do whatever he wants to do."
Have a tip we should know? [email protected]