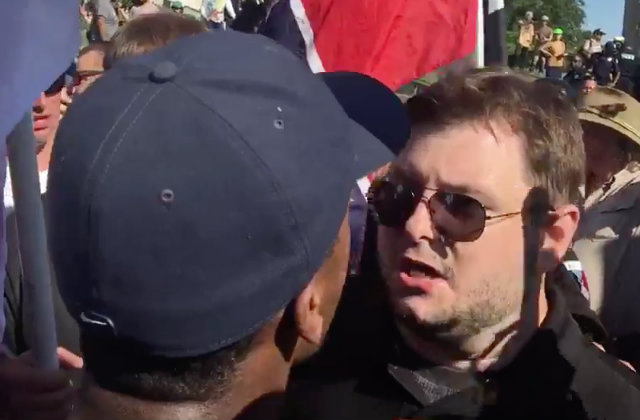 The pending removal of three confederate statues has sparked some huge protests and counterprotests citywide in New Orleans. Police were on high alert Sunday in areas like Lee Circle, Congo Square and the Jefferson Davis monument, The Times-Picayune reported.
Things seem to have gone pretty smoothly, cops said in follow up statement late Sunday afternoon. They called it "predominantly peaceful and respectful."
We remind all protestors that our officers will be enforcing all laws and regulations related to acceptable protest activity. Masks and weapons of any kind are prohibited at protests and demonstrations.
Louisiana has an open-carry law.
It wasn't like everyone sang kumbaya, though. A Times-Picayune reporter caught a testy interaction between two men on opposite sides of the issue.
A white supporter of the statues could be seen screaming the N-word at a black man, and screaming "Let's go! Let's f–king go!" in an aggressive manner.
The black man, who held a sign, chanted back, "Black don't crack!"
Some very heated words here at Lee statue protests, caution: major expletives #nola pic.twitter.com/iSYIefip4q

— Beau Evans (@beauvans) May 7, 2017
Some protestors from both sides have merged despite @NOPDNews's pledge that that would not happen pic.twitter.com/R1BSYLzYUu

— Beau Evans (@beauvans) May 7, 2017
The Battle of Liberty Place obelisk, which commemorates the 1874 insurrection of the racist "White League" against the local Reconstruction government, had already been removed on April 24 because of efforts by Mayor Mitch Landrieu and the City Council. Remaining on the chopping block, so to speak: statues of 1) Confederate General Robert E. Lee; 2) General P.G.T. Beauregard; and 3) Confederate President Jefferson Davis.
"Take 'Em Down NOLA," a group that advocated for the removal, scheduled their rally to begin at Congo Square at 1:30 p.m., from which they'd march to Lee Circle. Pro-statue supporters were scheduled to meet at Lee Circle at 11 a.m.
[Screengrab via Beau Evans]
Have a tip we should know? [email protected]