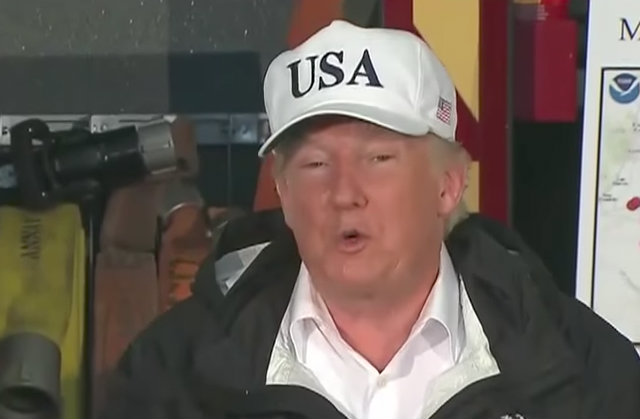 A legal group suing the Trump Administration correctly guessed on Friday that the president would delete a miswritten tweet. In doing so, he may have violated federal record keeping laws, they said.
"Texas is heeling [sic] fast thanks to all of the great men & women who have been working so hard. But still, so much to do," wrote President Donald Trump in support of storm victims. "Will be back tomorrow!" Citizens for Responsibility and Ethics in Washington, however, took shots at how POTUS handled the obvious misspelling.
Trump often deletes his morning typos, especially embarrassing ones. If they're not archived, he's breaking the law. We'll see what happens. https://t.co/aUonF4JWJM

— Citizens for Ethics (@CREWcrew) September 1, 2017
UPDATE: Just like we figured, he deleted this tweet, and violated the Presidential Records Act in the process if the WH didn't archive it. pic.twitter.com/1H2AX3fIpA

— Citizens for Ethics (@CREWcrew) September 1, 2017
This isn't just about bad typing. CREW and another nonprofit group, the National Security Archive, sued the Trump administration in June over this sort of thing. They argue that the deletion of @realDonaldTrump's tweets, and the administration's use of confidential messaging applications break federal law because communications aren't preserved.
LawNewz.com has reached out to the White House for comment.
CREW has pretty much submitted the current administration to nonstop criticism and scrutiny. For example, they have filed a complaint over an alleged conflict of interest involving top adviser Jared Kushner, and they successfully filed a Hatch Act complaint against the White House Social Media Director.
[Screengrab ]
Have a tip we should know? [email protected]