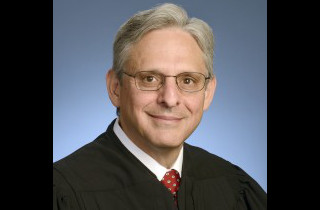 Lawyer Stephen Michel has tried a district judge. He's tried an appeal. Now he's reaching out to the Supreme Court to make the U.S. Senate vote on whether Merrick Garland will replace Justice Antonin Scalia.
Michel, an environmental lawyer from New Mexico, sued leaders of the Republican-controlled Senate in August, and the lawsuit ended up in the U.S. District Court in D.C., where Garland services as chief judge.
As Judge Rudolph Contreras put it on November 17:
Because his state's senators have been unable to vote on Chief Judge Garland's nomination, Mr. Michel contends that his own vote for United States senators has been diminished as compared to those voters in states with senators "with disproportionate power to control Senate action." … This, he argues, violates the Seventeenth Amendment's guarantee of senators with "one vote" elected by the people of their states
But that same judge didn't see things this way.
Mr. Michel has not shown that he has suffered an individualized injury such that he can maintain this action. This alleged diminution of his vote for United States Senators is the type of undifferentiated harm common to all citizens that is appropriate for redress in the political sphere: his claim is not that he has been unable to cast votes for Senators, but that his home-state 5 Senators have been frustrated by the rules and leadership of the United States Senate. This is far from the type of direct, individualized harm that warrants judicial review of a "case or controversy."
He wrote that what Michel is asking for would lead to a slippery slope. By interfering in situations like this, judges would have to act superior to the legislative branch. Plus, this would open the door for anyone to sue if they thought their representative was treated unfairly. An appellate court upheld that ruling on December 7.
Now Michel is going to the last stop: Supreme Court Chief Justice John Roberts, who reviews emergency applications originating from the D.C. Circuit. He's asking for an injunction.
According to the court's Public Information Office, 1) there must be a "reasonable probability" that at least four justices would want to hear the case; 2) a "fair prospect" that justices could rule for the applicant; 3) that a denied application would cause "irreparable harm"; and 4) the justice reviewing the application would have to balance the "relative harms" at stake between public interest, the applicant, and the respondent.
So yeah, Michel's application is a long shot.
President Barack Obama, a Democrat, nominated Garland in March to replace the late conservative Justice Antonin Scalia. The Republican-controlled Senate balked at having a hearing. Majority Leader Mitch McConnell (R-Kentucky) said this about Obama way back in February, shortly after Scalia's passing:
This is his moment. He has every right to nominate someone. Even if doing so will inevitably plunge our nation into another bitter and avoidable struggle, that is his right. Even if he never expects that nominee to actually be confirmed but rather to wield as an electoral cudgel, that is his right.
As things stand, it's certain that President-elect Donald Trump will fill the vacation with a conservative jurist shortly after inauguration. He may have several more opportunities throughout his term.  Three justices are over 70: liberal jurists Stephen Breyer (78), Ruth Bader Ginsberg (83), and noted swing-voter Anthony Kennedy (80). Scalia passed away at 79. Any further vacancies would change the ideological balance of the court for quite a while.
[image via U.S. District Circuit Court]
Have a tip we should know? [email protected]