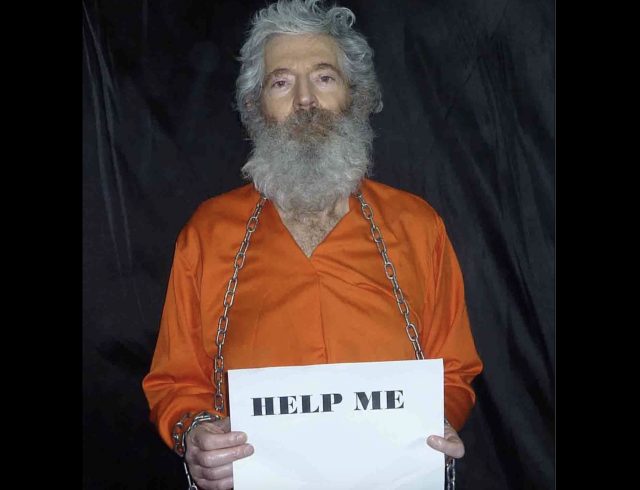 The family of retired FBI Agent and part-time CIA consultant Robert Levinson, missing in Iran since 2007, has filed a lawsuit against the Islamic country, alleging it concealed its role in his kidnapping and disappearance.
According to a copy of the lawsuit obtained by LawNewz, Levinson's family filed the lawsuit that seeks unspecified compensation for Iran's alleged role in the disappearance and the subsequent grief and emotional distress the Iranian government continues to inflict upon Levinson's family.
Family attorney David McGee told LawNewz this has been a 10-year struggle for the Levinson's wife and seven children and they have done everything they know to do to try to get Levinson back, or just to get the Iranians to admit they know much more than they have said thus far about the matter.
McGee said the family has gone through the usual channels at the State Department and FBI, but also tried what some might consider unorthodox means including meeting with Russian Oligarchs who have influence gun Iran, to speaking arms dealers and even going so far to meet with terrorists who might have useful information.  No stone has seemingly been left unturned, but Levinson is still missing.
Levinson was reportedly working as a private investigator at the time of his capture, but it eventually became known through the media that he was sent to Iran at the behest of a group of CIA analysts who essentially deciding to run Levinson as asset in a hostile country.  It took the CIA years to acknowledge this.  According to McGee, the Agency was finally forced to admit his connection to the agency after the family discovered his contract with the CIA in his emails.  He was actually sent to Iran, according to McGee, to obtain information about high level Iranian officials that were skimming oil profits and hiding the money in the West.
The details of his capture remain sketchy, and the Iranians have always denied official government participation in the snatch job.  However, some U.S. intelligence analysts theorize he was taken by the Iranians to use as leverage during the nuclear negotiations.
His captors initially sent some proof of life videos, but the last publicly known video was sent in late 2010.  Levinson appears disheveled in some of the videos and some say he showed signs of poor health.  The quality of the videos reportedly caused suspicion of some in the U.S. Intelligence Community that Iranian intelligence was involved in the abduction and detention.
The lawsuit states, "By holding Robert Levinson captive and incommunicado for more than ten years, by sending to this family, threats to kill Robert Levinson and videos and photographs of him pleading for help, by refusing to confirm whether he was dead or alive and his physical condition, Iran intentionally and recklessly inflected extreme emotional distress on his wife…."
Subsequent still photo releases and unreleased hostage videos sent to family caused medical experts to question whether Levinson could even remain alive much longer. However, the family has not given up hope.
McGee said the purpose of the lawsuit has little to do with recovering money — and, in fact, he did not even know it was possible to maybe recover money at the time he filed the suit.  He said the purpose behind the suit was to help a "[f]]amily who derseves justice and wants justice, and this is the only means left for which they can obtain it."  He further stated he demanded a jury trial because he wanted an independent group of citizens to issue a verdict that lets Iran know what they did "is not okay" and not acceptable "in a civilized world."  McGee said he recognized there is a lot of mistrust and politics at play when it comes to U.S. relations with Iran, but what gets lost among all os that is the fact that Levinson was a family man and human being, and should not be used as a pawn in an international fight.
The FBI has increased its reward to $5 million for information about his whereabouts and Donald Trump invoked his name during the presidential campaign.  Nonetheless, little progress seems to have been made.
At the end of the day, McGee hopes this lawsuit will ultimately "bring the Levinson family closure" and expose Iran for all the world to see.
Editor's Note:  LawNewz spoke with Levinson family attorney David McGee of Thursday about the case and updated the story to include information obtained from McGee.  
[image via Levinson Family]
Have a tip we should know? [email protected]