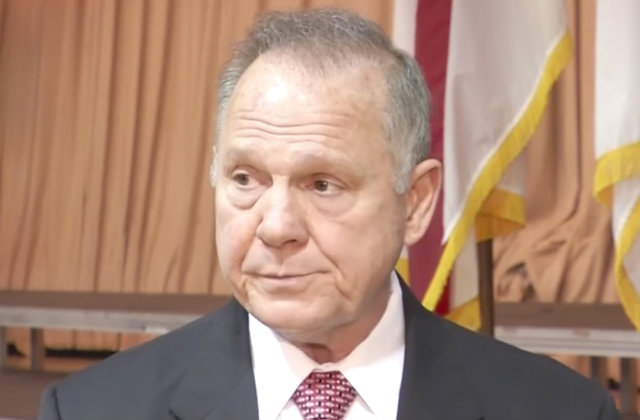 The GOP is scrambling for a way to get rid of Republican Senate nominee Roy Moore amid allegations that he preyed on teenage girls, but one avenue isn't available.
It was suggested Monday that current Alabama Sen. Luther Strange might resign, so that Gov. Kay Ivey can replace him.
Based on my reporting, it looks like one of the only *real* chances of knocking Moore off the ballot is for Strange to resign right now and for Ivey to then appoint a successor, which scraps the election until standard ballot in 2018.

— Elaina Plott (@elainaplott) November 14, 2017
Strange was filling in the vacant seat formerly held by U.S. Attorney General Jeff Sessions, and he lost the GOP primary against Moore.
A couple of law professors said Monday that this kind of replacement probably wouldn't be possible. Here's the take by Professor Rick Hasen, an election law expert at the University of California, Irvine:
This is the @hughhewitt play. It is far from clear that Strange resigning moots the current election. He was filling a vacancy and resigning doesn't create new one. Under 17th Amendment looks like currently called election goes forward. https://t.co/GQnfLQvtxx

— Rick Hasen (@rickhasen) November 14, 2017
He later said point-blank that Strange's resignation would prompt no new special election.
The 17th Amendment established that U.S. Senators are chosen by a voters, not state legislatures. It also made a way to address vacancies:
When vacancies happen in the representation of any state in the Senate, the executive authority of such state shall issue writs of election to fill such vacancies: Provided, that the legislature of any state may empower the executive thereof to make temporary appointments until the people fill the vacancies by election as the legislature may direct.
Professor Derek T. Miller, from the Pepperdine University of School of Law, said the text treats as distinct the filling of vacancies and the making of temporary appointments.
"Strange steps down, resets clock, Ivey schedules new election" simply misunderstands 17th Amendment. By its text, writ of election to fill vacancy & temporary appointments are separate acts. pic.twitter.com/wqauS0uBLz

— Derek T. Muller (@derektmuller) November 14, 2017
As things stand, Moore refuses to step down. He denied allegations by the four women in the WaPo report, calling it a political smear job by the outlet and Democrats. Nonetheless, mounting pressure led many national Republicans to ditch him. This includes Senate majority leader Mitch McConnell, Arizona's John McCain, and even the Republican National Committee. Alaska Senator Lisa Murkowski said last week that she talked to Strange about doing a write-in campaign (this is how she retained her seat in 2010 after narrowly losing the GOP primary).
Alabama, a very red state, could very well elect Democratic nominee Doug Jones. But it really is way, way too early count Moore out. Republicans nationwide may have abandoned him. His local support remains somewhat steady. In spite of some recent polling that shows Jones leading the race, some local GOPers have taken to disbelieving or downplaying the allegations. They remain at his side.
[Screengrab via CBS]
Have a tip we should know? [email protected]