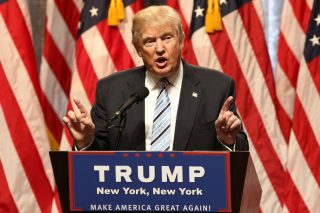 The day after Donald Trump won the Presidential election, California attorney Neel Chatterjee decided to Stick It to the Man. That's the name of a new group started by the partner at Orrick, Herrington & Sutcliffe in preparation for potential legal battles against the next President.
The whole thing started as a bit of a joke, beginning with a Facebook post the morning after the election. Chatterjee, who offered free hugs at a rally outside the White House in November, certainly has a sense of humor, but he's very serious about holding Trump accountable on legal issues. Chatterjee told The American Lawyer that while not a "real thing" in terms of being an official practice group at the firm, Stick It to the Man (SITTM) is real enough in that he is getting ready to file civil rights, First Amendment, and other cases if necessary, to keep the new administration in line. "I really want to find a case where a bunch of us brown lawyers join forces," the Hindu Chatterjee said.
"Stick It to the Man is to inspire people," Chatterjee said. "The solution is to not wring your hands and complain. It's to express your opinion." If inspiration is the goal, SITTM is already working, as roughly 20 attorneys have offered to join him so far.
Chatterjee isn't worried that his political leanings will alienate potential clients. "The way that I look at it, when people are making a decision about hiring me or not hiring me, they won't decide based on my politics," he said. "Authenticity is something people sniff out. Dishonesty is something people sniff out. If I'm not my authentic me, I've lost my currency as a lawyer."
[Image via screengrab]
Have a tip we should know? [email protected]