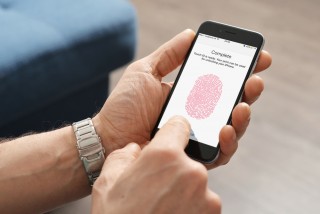 A recently unsealed court order shows that U.S. Magistrate Judge Irma Ramirez allowed federal prosecutors to compel an alleged pimp to unlock his iPhone with his fingerprint. Because the phone was suspected of containing information that could incriminate the owner, Martavious Banks Keys, it raises the question of whether forcing him to comply violates his Fifth Amendment rights.
The application for the order, obtained by Forbes, says that Keys was suspected of being involved in sex trafficking minors, as well as being a felon illegally possessing a firearm. The order was granted on May 26, and the search warrant, with the permission to force Keys to use his fingerprint to unlock the "touch ID" feature of his iPhone 5S, was executed on June 1. However, even with Keys' fingerprint,  prosecutors could not unlock the phone. This is likely do to the phone's feature of requiring both a fingerprint and the phone's pass code if it has not been unlocked within 48 hours, according to Forbes. Keys was indicted on June 7 on one count of sex trafficking of children.
And therein lies the legal nuance at play. Prosecutors invoked the All Writs Act of 1789 in getting Keys to give his fingerprint. That's the same law the FBI tried to use to get Apple to create a backdoor to unlock the iPhone of San Bernardino shooter Syed Farook. While complying with the order would require Keys to take an action that could lead to his own conviction, actions are different from words.
Attorney Marcia Hofman, whose practice includes electronic privacy and computer security, wrote back in 2013 that in order for Fifth Amendment protection to apply, the government must try to force a person to  give "a 'testimonial' statement" that would be incriminating. However, she said that a testimonial statement has to reveal the contents of a person's mind. She wrote:
We can't invoke the privilege against self-incrimination to prevent the government from collecting biometrics like fingerprints, DNA samples, or voice exemplars. Why? Because the courts have decided that this evidence doesn't reveal anything you know.
Hofman compares such a situation to one used in the dissent in a Supreme Court case that says that a person can be made to turn over the physical key to a strongbox, but not the combination to a lock.
According to Ars Technica, there have been few cases involving fingerprint IDs, and the U.S. Supreme Court has yet to address the issue. Perhaps this case will end up there. Keys' trial is scheduled to begin on August 15.
Have a tip we should know? [email protected]