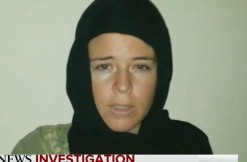 Humanitarian aid worker Kayla Mueller was kidnapped by ISIS forces when she visited Syria in 2013. She was killed less than two years later. On March 13, 2015, U.S. President Barack Obama visited her parents in Phoenix, Arizona, and asked them what he could do for them. The parents said he could donate to a foundation they established in her memory. He promised to do that.
To date, the family says the President hasn't followed through.
ABC's 20/20 interviewed Carl Mueller and Marsha Mueller for a report that premieres Friday night.
"I'm still waiting for that donation, Mr. President," Carl said.
The couple says it was supposed to be an anonymous gift, and reminisced about their meeting in the interview.
"He asked what he could do for you," Marsha told Carl.
"He says, 'You won't know, it'll be an anonymous donation but I will,'" Carl said.
The donation hasn't come.
A White House official told ABC News that the promise did happen, and that Obama will follow through.

ABC Breaking News | Latest News Videos
The Mueller's friction with the feds goes back years, actually. They said ISIS demanded $6.2 million for their daughter's return, but officials threatened the Muellers with criminal prosecution if they tried to pay. The President later announced that it was "totally unacceptable" for his people to threaten prosecution in this way.
"I acknowledged to them [the families of hostages, including the Muellers] in private what I want to say publicly — that it is true that there have been times where our government, regardless of good intentions, has let them down," he said in a June 24, 2015 statement.
The Justice Department did its own damage control, and released a statement.
"In these cases, the department has focused on helping the families, consistent with the government's no-concessions policy, and will continue to focus on exploring all appropriate options," their statement read. "The department does not intend to add to families' pain in such cases by suggesting that they could face criminal prosecution."
On the government side of things, attempts to save Kayla failed. For example, Obama mobilized the actual Delta Force for a rescue mission in July, 2014, but Kayla and other hostages had already been moved to another location.
"He [Obama] said, 'I'm a father, I have two daughters,'" Carl said. "'If that was my daughter being held, I'd do everything I could to get her out.' And I'm sure he would have, but we were told many, many times, 'We're doing everything we can. Everything we can.' And they weren't."
[screengrab via ABC News]
–
Follow Alberto Luperon on Twitter (@Alberto Luperon)
Have a tip we should know? [email protected]