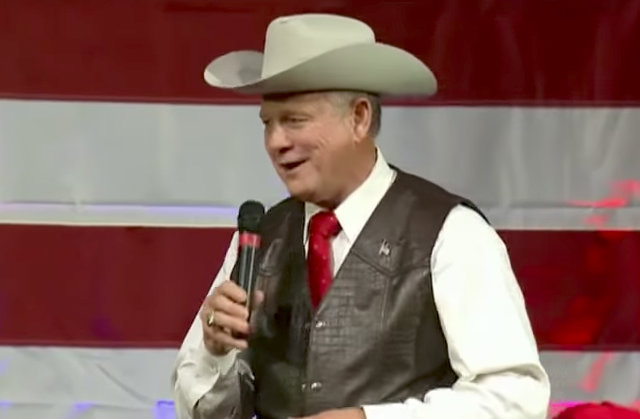 Late Wednesday night, Roy Moore filed a complaint alleging "systematic voter fraud" in Alabama's special election, and asked a judge to delay certifying the results.
Nearly three weeks have passed, and Moore has still refused to concede to Democrat Doug Jones who won the election by more than 20,000 votes. The Alabama Secretary of State is expected to certify the election results on Thursday (and says he plans to despite the complaint). The complaint, filed in Alabama state court, also called for a new election. However, probably most entertaining (troubling? frightening?), is that in the complaint, Moore's attorneys attach several affidavits from so-called election experts including Richard Charnin, who calculated that the probability of the elections results in these precincts happening naturally is 'less than one in 15 billion."
Roy Moore's press release boasts that Charnin "holds three degrees in applied mathematics" and "has written four books on election fraud." However, Moore conveniently leaves out the the fact that Charnin runs a blog called the "JFK conspiracy and systematic election fraud analysis." In his blog, he writes that he can mathematically prove there was a conspiracy to assassinate President Kennedy. He also wrote recently about how his calculations prove that Donald Trump won the popular vote as well as the electoral vote.
"A True Vote Model analysis indicates Trump won the popular as well as the electoral vote. The pundits always assume that the recorded vote is accurate but never consider the fraud factor. The historical statistical evidence is conclusive: every election is fraudulent," he wrote. So no surprise here that he found Moore's election to be fraudulent too.
Charnin has also pushed conspiracies about Seth Rich, who was a DNC staffer murdered in July 2016.
"It's not just about Seth Rich. Applied Mathematics indicates a virtual 100% probability of a cover-up," he wrote.
Moore is the first Republican to lose an Alabama Senate race in 25 years. We can't imagine that Mr. Charnin's affidavit and Moore' election complaint will be a winning effort either.
Have a tip we should know? [email protected]
Rachel Stockman - President / On Air Host