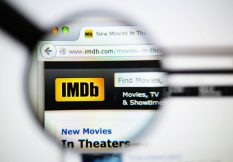 California legislators enacted a new law which went into effect on January 1st restricting the display of an actor's date of birth to a "commercial online entertainment employment service provider."  The purpose of the law seems to be to curb the use of age discrimination in the field, according to California Attorney General Kamala Harris.
The foremost movie database and entertainment website, IMDb.com, believes that it is the specific and exclusive target of the new regulation.  Although most of those who frequent the site wouldn't consider it to be an 'employment service provider,' according to the Washington Post, IMDb sells its directories to professionals within the entertainment industry, namely, casting directors.
When the the bill was initially signed into law in September, IMDb moved for a temporary injunction to halt its enforcement. IMDb sought to kill the bill, claiming it unconstitutional.  In follow up litigation, IMDb initiated suit against Harris in an effort to still undermine the law.
The Hollywood Reporter spoke with Erwin Chemerinsky, dean of the University of California at Irvine School of Law and a constitutional scholar, who stated that "Creating liability for the truthful reporting of lawfully obtained information is deeply problematic under the First Amendment…It is different to say 'men only' or 'women only' or 'whites only' in an ad. That is discrimination that is impermissible. A birthday or an age is a fact, and I don't think there can be liability under the First Amendment for publishing true facts."
IMDb is not only restricted from posting the birth dates of actors moving forward, but must also delete any DOBs currently in its database.
See the bill here:
California Assembly Bill 1687 by LawNewz on Scribd
[image via shutterstock]
Have a tip we should know? [email protected]