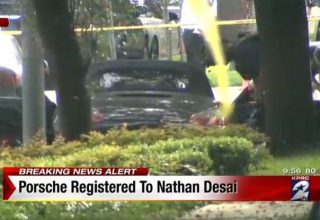 Police are investigating a Porsche registered to a man named Nathan DeSai, in connection with a shooting that took place at a strip mall in Houston early Monday morning, KPRC reported. At least nine people were injured. Police announced that officers who arrived on the scene shot the suspect, who was pronounced dead. Desai has not been officially identified as the shooter.
Active shooter at Weslayan & Bissonnet has been shot by our officers; no reports of other suspects at this time #hounds

— Houston Police (@houstonpolice) September 26, 2016
Active shooter scene still active but contained. Suspect DOA. Media staging area at Wells Fargo parking lot at 3900 Bissonnett & Weslayan.

— Houston Police (@houstonpolice) September 26, 2016
Police Chief Martha Montalvo said at a press conference that the shooter was identified as an attorney who had issues with his firm. The Houston PD had announced that they were looking into whether this was related to the attack. Nathan DeSai is an attorney in the Houston area, according to KPRC. The television station reported that DeSai's former law partner, Ken McDaniel, said the two parted ways on good terms and started their own practices for economic reasons. A LinkedIn profile bearing DeSai's name says that he and McDaniel are no longer affiliated with each other.
Suspect reportedly a lawyer. Investigation to determine if issues at his firm led to shooting. #hounews

— Houston Police (@houstonpolice) September 26, 2016
During their investigation of the crime scene, officers found additional weapons in the suspect's car. Bomb squad robots checked the vehicle and officers are investigating it.
LawNewz.com will update this story as details are uncovered.
Have a tip we should know? [email protected]