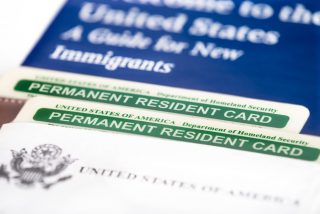 A new report from the Department of Homeland Security's Office of the Inspector General (OIG) shows alarming errors in the processing and distribution of green cards. In the past three years, at least 19,000 cards have been sent out either with incorrect information or in duplicate.
U.S. Citizenship and Immigration Services (USCIS) has been using an Electronic Immigration System (ELIS) to process new and replacement green cards since May 2013. The OIG's report found that there are "design and functionality problems in ELIS." The system is meant to automate processing, but there are significant errors and "USCIS' efforts to address the errors have been inadequate."
As a result of errors, a number of cards have been sent to the wrong people, which poses a variety of dangers, according to the report. "Green Cards may enable terrorists, criminals, and illegal aliens to remain in the United States and access immigrant benefits," if they are sent to the wrong people. While USCIS did work to recover cards that were sent to the wrong people, they were not totally successful, and OIG found that the efforts to get the cards back "lacked consistency and a sense of urgency." In fact, the report says that USCIS has a system for flagging cards that were inappropriately distributed to keep people from misusing them, but they didn't use it consistently.
Additionally, in cases where legal permanent residents don't get their cards, they can be "unable to obtain benefits, maintain employment, or prove lawful immigration status."
In addition to the national security risks and harm done to legal residents, these errors are also costly. In fiscal year 2015, USCIS spent nearly $1.5 million on people's inquiries regarding their Green Cards.
The OIG's report recommends that USCIS implement more secure card delivery systems, as well as standardized methods for tracking and recovering cards, and disabling ones that they can't recover. They also recommended improvements to the ELIS system itself, to prevent these errors from happening in the first place. From the time ELIS was put in place in 2013, there were more than 200,000 reports from people complaining about missing Green Cards, many due to them being sent to the wrong address. The OIG report found that this was partially because of complicated procedures for people to update their addresses, and limitations in the ELIS system itself.
León Rodriguez, Director of USCIS agreed with all of the OIG's recommendations in his comments, and said that measures are being taken to rectify every issue. Those measures are expected to be completed between the end of 2016 and late April 2017.
[Image via Shutterstock]
Have a tip we should know? [email protected]