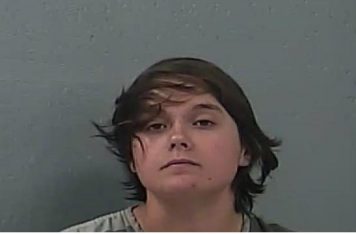 A bad Thanksgiving for most people is sitting at the table with a crazy uncle who has too much to drink, not sitting in jail accused of a bizarre crime.  But this is exactly what happened to a 19-year-old woman in Springfield, MO.
Police told KY3 News in Springfield that Victoria Vanatter was in custody at the Greene County Jail on Thanksgiving, charged with second-degree domestic assault and armed criminal action.
According to a probable cause statement obtained by the news station, police arrested Vanatter after officers arrived at her home to find her covered in blood.  Police say they also found another man inside the home who was allegedly bleeding from knife wounds.  Officers also described a heart symbol scrawled on the wall with the words "I'm sorry."
The man was allegedly very drunk and refused to cooperate with the officers, initially telling the cops the wounds were self-inflicted.
However, Vanatter is accused of telling police a very different story about what happened inside the home.  Vanatter allegedly told police it all started when she and the man, described as her boyfriend, "had been talking about vampires and (he) wanted to suck someone's blood. Vanatter said she told (him) he could suck her blood and he cut her forearm with a box cutter razor and drank her blood in the kitchen."
After that happened, Vanatter seemingly determined she did not like allowing her boyfriend to suck her blood so she allegedly grabbed a knife and started stabbing him.  Sensing she might have really hurt the man, Vanatter said she dialed 911 but the man tried to grab the phone from her.
The phone obviously did not hang up soon enough and police quickly arrived to find the horrible scene.
Vanatter is currently being held on $150,000 bond.  A prosecutor reportedly told the judge he requested the high bond amount because she allegedly "admitted to [detectives] that she was a threat to society and we need to take her seriously."
[image via Greene County jail]
Have a tip we should know? [email protected]