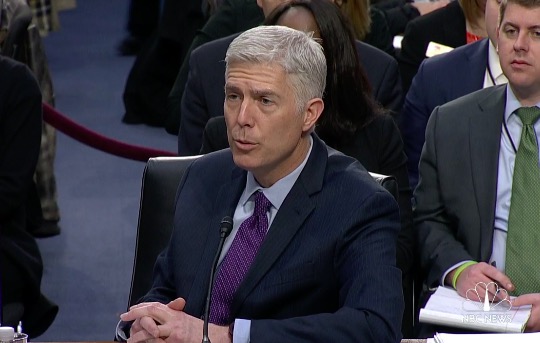 During Tuesday's confirmation hearing before the Senate Judiciary Committee, Sen. Dick Durbin (D-Illinois) grilled Supreme Court nominee Neil Gorsuch over a controversial letter that was penned by one of Gorsuch's former students at the University of Colorado Law School.  Jennifer Sisk insists that her former professor made some disturbing statements regarding his feelings about maternity leave, and how women might manipulate leave and then ditch their jobs.
Sisk wrote a letter to the United States Senate Committee on the Judiciary. She described one Legal Ethics and Professionalism class last year taught by Judge Gorsuch as follows:
He asked the class to raise their hands if they knew of a female who had used a company to get maternity benefits and then left right away after having a baby, Judge Gorsuch specifically targeted females and maternity leave. This question was not about parents or men shifting priorities after having children. It was solely focused on women using their companies… He then announced that all our hands should be raised because "many" women use their companies for maternity benefits and then leave the company after the baby is born.
Sisk claims that Gorsuch went on to insist that companies — not only should — but  must ask employers to ask female interviewees about their pregnancy plans.  Sen. Durbin grilled Gorsuch about these comments, which he largely denied.
"I'd be delighted to actually clear this up. Because the first I heard of this was the night before my confirmation hearing," Gorsuch said this afternoon.
We talk about the pros and the cons in a Socratic dialogue so that they can think through themselves how they might answer that very difficult question… I do ask for a show of hands, not about the question you asked but about the following question, and I ask it of everybody: how many of you have had questions like this asked of you in your employment environment, inappropriate questions? And I am shocked every year, Senator, how many young women raise their hands. It is disturbing to me."
The Pregnancy Discrimination Act bars employers from discriminating against job applicants based on pregnancy or other medical conditions. Sisk said that she raised her concerns about Gorsuch's comments to the administration and even provided a copy of the email she sent back in April documenting her concerns.
"One of us will talk to Judge Gorsuch," Senior Assistant Dean of Students Whiting Leary reportedly wrote back to the student in April 2016. That doesn't seem to line up with Gorsuch's testimony that he'd never heard about the issue until this year so we've emailed Leary to clarify if administrators ever spoke to Gorsuch about the comments.
Interestingly, another student refuted Sisk's claims, according to NBC News.
"Although Judge Gorsuch did discuss some of the topics mentioned in the letter, he did not do so in the manner described," Will Hauptman said. Hauptman also happens to be helping Gorsuch prepare for the hearings.
*** UPDATE****
Statement from University of Colorado Law School Dean S. James Anaya
Judge Neil Gorsuch has taught as a Thomson Visiting Professor at the University of Colorado Law School since 2008.
Media reports have shared varying student perspectives about a discussion that Judge Gorsuch led during one session of his ethics course in the spring 2016 semester.
The law school takes student concerns seriously and endeavors to listen and take appropriate measures to address concerns raised about classroom teaching.  The law school places a high value on academic freedom and students being in a class environment that both is free from discrimination and has an open and robust discussion of the law.
Consistent with law school policy and the Family Educational Rights and Privacy Act, the law school administration will not discuss publicly details of individual student complaints. In this case, media reports have made us aware of the letter a former student wrote to the Senate Judiciary Committee regarding a complaint about the session of Judge Gorsuch's ethics class.
In late April and May 2016, law school administrators met with the student to address her concerns and told her the matter would be raised with Judge Gorsuch after grades were submitted for the spring semester. At the end of June, the law school had a transition of deans and, regrettably, preceding that change, no member of the law school administration spoke to Judge Gorsuch about the student's concern. We apologize to the student who expressed the concern and to Judge Gorsuch for not bringing this matter to his attention last summer.
Have a tip we should know? [email protected]
Rachel Stockman - President / On Air Host