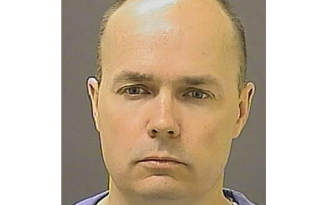 Update 7/5/16 9:54am: At Tuesday morning's pre-trial hearing, Lt. Brian Rice elected to have his case heard in a bench trial by Judge Barry Williams.
---
The trial for Lieutenant Brian Rice, the highest ranked of the six officers involved in the arrest of Freddie Gray, is scheduled to begin this week. Gray died from injuries he sustained while in the custody of Baltimore Police after his arrest in April 2015. Rice has a pre-trial hearing on Tuesday, where it will be determined, among other things, whether his case will go before a jury, or if he will opt for a bench trial.
It is likely that Rice will choose a bench trial to be heard and decided by Judge Barry Williams, as his colleagues Officers Edward Nero and Caesar Goodson Jr. were both acquitted by Judge Williams after bench trials. Officer William Porter's jury trial ended in a hung jury, and he now awaits a new trial.
Rice is charged with involuntary manslaughter, second-degree assault, two counts of misconduct in office, and reckless endangerment. At today's hearing, his attorneys are expected to move to have the whole case dismissed, and should that fail, to have the reckless endangerment charge dropped, according to the Baltimore Sun.
Have a tip we should know? [email protected]