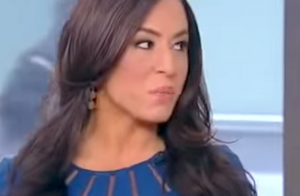 Fox News contends that Andrea Tantaros' employment contract requires arbitration which would  keep the legal dispute with the former Fox News personality out of the public eye. Tantaros wants the entire matter litigated in public court. In court documents filed Friday, obtained by The Hollywood Reporter, Fox News told a judge that Tantaros "craves the spotlight of a public courtroom so she can get her picture in the paper yet again and hawk some copies of her book."
Fox News has come out swinging against the former anchor ever since she filed a lawsuit for tens of millions of dollars claiming she was harassed by male employees at the network, including former CEO Roger Ailes.  Tantaros also named Fox News and several executives as defendants saying that they allowed the network to be run, as she put it, like "a sex-fueled, playboy mansion-like cult."  One of the named defendants in the case is Ailes' replacement, Bill Shine.
"Tantaros's unverified complaint of August 22 in this Court bears all the hallmarks of the 'wannabe': she claims now that she too was victimized by Roger Ailes, when, in fact, contrary to her pleading, she never complained of any such conduct in the course of an investigation months ago," Fox News attorneys said in an earlier filing.  Tantaros has argued that the arbitration agreement doesn't cover her situation because the network leaked information about her in violation of her confidentiality. Tantaros has also submitted an affidavit from her New York psychologist in which he contends that Andrea told him about the harassment by Ailes back in 2014.
In the most recent motion, Fox News fired back:
"The affidavit is completely irrelevant to this Motion, as demonstrated by the fact that it is not cited even once in the 'Argument' section of her memorandum of law… As Plaintiff hoped, however, her ploy generated another firestorm of publicity, including her appearance on Good Morning America, with her counsel at her side, to discuss her claims against Fox News, while she was still employed by Fox News.
Fox News maintains that the dispute must be resolved in arbitration because her contract mandates arbitration "for any controversy, claim or dispute arising out of or relating to this Agreement or your employment."  Tantaros wants this legal fight to be brought in open court. Ultimately, a judge will decide if the dispute will be forced into arbitration.
Have a tip we should know? [email protected]
Rachel Stockman - President / On Air Host