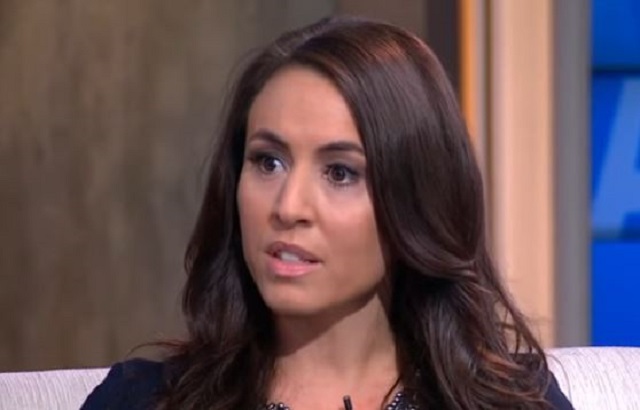 Fox News is responding to a lawsuit from former host Andrea Tantaros by taking action of their own against her and her attorney. After Tantaros sued, claiming that people at Fox hacked her electronic devices, spied on her, and harassed her, the network is moving for sanctions against Tantaros and her attorney Judd Berstein for filing a complaint with allegations that "are not just false, they are outrageously and flagrantly so."
In a court filing obtained by LawNewz.com, Fox News described Tantaros' allegations as "like the plot of a television drama." Fox's attorneys accuse Burstein of falsely accusing Fox News of criminal conduct, claiming that he only filed it "to generate negative headlines for, and inflict maximum damage on, Fox News." They claim that had Burstein done "even a minimal factual investigation," he would have discovered that Tantaros' allegations were "an outright hoax."
The network says that either Burstein knowingly filed false allegations or did not meet his professional obligation to investigate his client's claims properly. Their attorneys argue that sanctions are appropriate under the Federal Rules of Civil Procedure, which allow for sanctions against attorneys who bring actions that are frivolous, lack evidentiary support, or are filed for an improper purpose, such as to harass.
They are asking for "a substantial monetary award," and a dismissal of Tantaros' complaint. They also want the matter to be referred to disciplinary officials, for Burstein's alleged violation of the New York Rules of Professional Conduct, the rules of ethics for lawyers in the State of New York.
Fox News' lawyers also claim that any future action taken by Tantaros should be barred from the courts and only be permitted through arbitration, citing case law that says that people who have "abused their litigation" can be precluded from additional filings.
Tantaros' lawsuit named Fox News, former President Bill Shine, public relations executive Irena Briganti, recently deceased former CEO Roger Ailes, and unnamed individuals.
In a statement to LawNewz.com, Burstein said:
I could not be happier about the strength of my case because Fox News has now handed me the smoking gun — evidence that they were electronically surveilling Ms. Tantaros's telephone conversations as late as April 21, 2017. Worse still, they were listening in my privileged conversations with Ms. Tantaros.
He added that "in their effort to bully Ms. Tantaros by filing a frivolous sanctions motion, counsel for Fox News has demonstrated its guilt."
Burstein elaborates by saying that in a declaration that was part of their motion, one of the Fox defendants discussed a tweet that was directed at Tantaros, which was later deleted. Burstein goes on to say that they only reason why someone would delete the tweet would be if they knew Burstein was going to refer to it in the lawsuit, which could only be known if they were spying on his communication with Tantaros.
Andrew Levander, one of the attorneys at Dechert LLP, the law firm representing Fox News, said in a statement obtained by LawNewz.com:
Mr. Burstein, who has already been chastised by the state court in this dispute, simply seeks to divert attention from his baseless federal complaint by misstating the facts.   Our motion for sanctions, supported by indisputable sworn statements and documentary evidence as well as overwhelming judicial authority, speaks for itself.
Memo of Law by LawNewz on Scribd
[Image via ABC screengrab]
Have a tip we should know? [email protected]