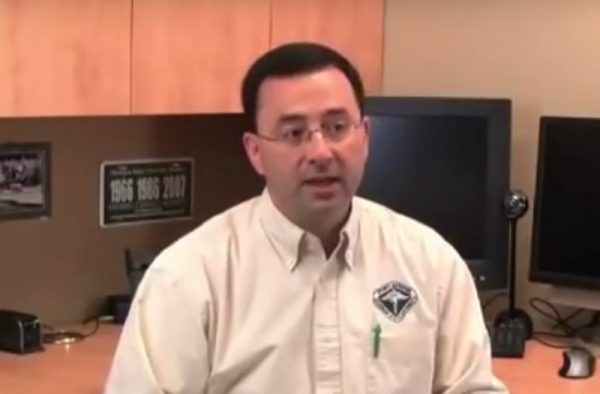 LANSING, Mich. (AP) — A doctor who specialized in treating female gymnasts at Michigan State University and through the elite USA Gymnastics organization was charged Wednesday with sexual assault.
Dr. Larry Nassar was charged in two Michigan counties. Online records show he's facing nine charges in Ingham County, including first-degree criminal sexual conduct in 2015 against a victim under age 13.
A message seeking comment was left for Nassar's lawyer. Attorney General Bill Schuette and police plan to provide more details at a 2:30 p.m. news conference.
Nassar had a clinic at Michigan State, where he treated members of the gymnastics team and younger regional gymnasts. He also was a doctor for USA Gymnastics, which trains Olympians. Dozens of women and girls say they were assaulted. Nassar denies it.
In separate criminal cases filed in 2016, he's charged with possessing child pornography and molesting the daughter of family friends. Those cases are pending.
Nassar was fired by Michigan State in September after the school said he violated restrictions that were put on his treatments, following a 2014 complaint. Since then, he has been the target of civil lawsuits, along with Michigan State and USA Gymnastics.
Attorneys representing women and girls say Nassar assaulted them during treatments for back and hip pain. The allegations go back many years. Nassar's accusers include 2000 Olympian Jamie Dantzscher.
"He would put his fingers inside of me, move my leg around," Dantzscher told "60 Minutes" on Sunday. "He would tell me I was going to feel a pop and that that would put my hips back and help my back pain."
Have a tip we should know? [email protected]