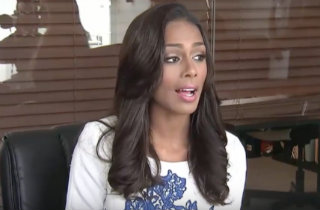 On Monday, Genesis Davila, the woman recently stripped of her crown as Miss Florida USA, fought back by suing the pageant in Miami-Dade County, Florida on counts of breach of contract, intentional infliction of emotional distress, negligent infliction of emotional distress, and defamation. According to ClickOrlando.com, Grant Gravitt Jr., the pageant director, said that "We finally had substantial proof to link her and her vendors to her room on an evening which they were not allowed."  The proof apparently was gleaned from Davila's own social media accounts.
By "vendors," Gravitt is referring to alleged outside hair and makeup artists, who are not allowed during the competition itself, as contestants must use the pageant's own staff for those needs. He added that "She made a poor life choice," citing their zero tolerance policy on rule breaking.
In the 21-page complaint obtained by LawNewz, Davila rebuts Gravitt's argument, alleging that the dispute is much deeper than just simple rule breaking:
She alleges that two days after winning the pageant last month, Gravitt, the Executive Director of the Miss Florida USA pageant, started screaming during a meeting about how Davila was a "cheater" and that he would "take her down."
According to the lawsuit, Davila was also told she was ineligible due to citizenship requirements. Davila says she immediately saw a lawyer. The attorney explained that as a Puerto Rican citizen, she was an American citizen, and that having lived in Miami for more than 18 months, she was fully eligible for the pageant under the rules of its application.
Davila says on July 22nd, the pageant tried to ambush her by scheduling a press conference when she came to visit their offices, at which point they stripped her of her crown for unnamed reasons. In the meeting, it's alleged that Gravitt produced a photo of Davila with a vendor helping with her hair in her room during the pageant, which is against the rules (as contestants must only use pageant staff). Davila claims the photo was just of a friend visiting her.
Davila claims when Gravitt stripped her of her crown in his capacity as pageant director, he gave the press a photo of Davila being worked on by an outside hair and makeup artist, but it was an image that Davila had posted to Instagram days earlier with the date cropped off, and it was from a professional photo shoot, to boot.
All of the photos showing Davila with alleged outside hair and makeup consultants are actually from before the pageant regardless of who these people actually are.
Davila is asking for $15 million.
At a press conference announcing the lawsuit, Davila's attorney, Richard Wolfe, said that with regards to the photo with the date cropped off, "We have a smoking gun. […] I've never seen such a strong smoking gun showing one man's malice." During the press conference, Wolfe also said he would be filing for an emergency injunction to restore Davila's place as Miss Florida USA.
LawNewz has reached out the the Miss Universe organization for comment on the lawsuit and will update this space if we hear back from them.
Have a tip we should know? [email protected]