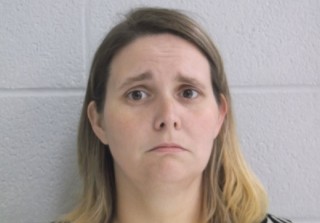 A mother was arrested after allegedly telling her community — and her family — that one of her daughters had cancer. She allegedly proceeded to collect money as donations for treatments. For four years, prosecutors believe Jessica Lynn Good accepted contributions from her church and fundraising events, posting on Facebook about her 4-year-old child's fake struggle and pocketing the cash as it came in, Oklahoma's Enid News & Eagle reported.
Court documents showed that Detective Robin Bench with the Enid Police Department investigated the case, speaking to Alan Seibel, associate pastor at Oakwood Christian Church. Seibel alleged that Good told the church that her daughter, identified in court documents as KG, suffered from cancer and seizures, and was on a waiting list for a heart transplant, and was undergoing stem cell research. The Seibel said the church had given Good more than $5,000 for medical expenses and so the family could pay their mortgage.
After several years, and not noticing any sign that the child was ill, Seibel became suspicious and asked police to investigate. Detective Bench found Facebook posts where Good said that KG had lymphoma, that she had a brain tumor removed when she was younger, and had other medical problems.
Bench learned that Good enlisted the help of Justin Morrison and Josh Norman to raise money, and that she held a charity golf tournament that raised nearly $12,000. Good also sold t-shirts, according to police records, with proceeds purportedly going to KG's treatment, and she had fliers put up seeking donations, saying that her daughter had a brain tumor.
After learning that KG had been treated at Oklahoma University Medical Center, Bench reviewed her medical records, which showed that she did not have any history of cancer or stem cell research, and was never on a heart transplant list.
When Bench interviewed Good at the Enid police station, Good admitted that the story was a hoax, that KG never had cancer, and that the Facebook posts were bogus. Police learned that Good had set up GoFundMe accounts for people to donate to the cause, and that she had transferred money out of the accounts.
Detective Randy Wilson filed an affidavit saying that he spoke with Dr. Mary Stockett, with OU Children's Hospital Child Abuse Pediatrics, who reviewed some of KG's medical records and "feels it may be some form of medical child abuse." Stockett said that KG went through unnecessary evaluations and therapy, and that "inappropriate medical care has occurred because of the false portrayal. Therefore, the actions of Jessica Good constitute medical child abuse."
Stockett said that KG also participated in fundraising, so it's possible that she actually believed that she was sick. Her siblings reportedly told the Department of Human Services that KG had cancer. "People say all the time she doesn't have cancer but she does, mom said," one of them said when interviewed. "Church even stopped the fundraiser for KG to go to Chicago for her Hodgkin's lymphoma so now mom and dad have to work extra hard to get the money."
Enid Police Captain Jack Morris told KFOR that Good also lied to her husband, and was planning the operation since KG was was a few months old.
Good was arraigned in Garfield County Court on Friday on three counts of obtaining money or property by false pretense for charitable or benevolent purposes, a felony, and one count of felony child abuse. She was released from jail after posting $2,500 bond.
Have a tip we should know? [email protected]