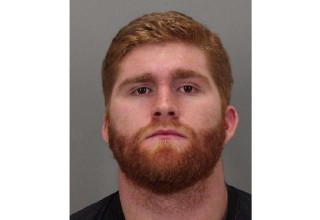 Bruce Miller, now formerly of the San Francisco 49ers, has been charged with seven felonies after his alleged assault of a 70-year-old man and his son at a hotel near Fisherman's Wharf.
Miller was allegedly intoxicated when he tried to get into the man's hotel room early Monday morning, where he was staying with his wife, according to ESPN. His 29-year-old son, who was staying next door, told him he had the wrong room, and then Miller allegedly attacked both of them. The father and son were treated at a nearby hospital, police said.
Police booked Miller in county jail at 11:25 Monday morning, and the 49ers released him later that day. On Thursday, the San Francisco District Attorney's Office announced the charges, which include one count of assault with a deadly weapon (allegedly a cane). He faces a misdemeanor battery charge in addition to the seven felonies. Miller is expected to appear in court on Friday for his arraignment.
Have a tip we should know? [email protected]