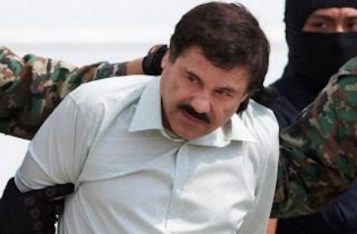 Acting U.S. Attorney General Sally Yates held a press conference on Friday morning to announce that Joaquin Archivaldo Guzman Loera, better known as El Chapo, will now face federal charges filed in Brooklyn, NY that allege he was operating a continuing criminal enterprise known as the Sinaloa Cartel.  Guzman was formally extradited to the United States on Thursday evening.
Yates was joined at the announcement by various DOJ agency officials and U.S. Attorneys from all over the United States.
Guzman is set to be arraigned later today on charges stemming from a 17-count superseding indictment, before U.S. Magistrate Judge James Orenstein in federal court in Brooklyn. Similar charges had been previously filed against Guzman by federal prosecutors in both Texas and California.  All charges will now be consolidated in the New York indictment, pursuant to an agreement with the Mexican government, who agreed to extradite El Chapo in May 2016.  As part of the agreement, the DOJ promised Mexican government officials that it would not seek the death penalty against the accused drug kingpin.
According to Yates, the case against Guzman will be prosecuted jointly by the U.S. Attorney's Offices in Brooklyn and Miami and the Narcotic and Dangerous Drug Section of the Criminal Division at DOJ.
The new indictment alleges that Guzman operated a continuing criminal enterprise between 1989 and December 2014 that passed numerous quantities of drugs into the United States that earned him more than $14 billion in cash proceeds from the sales.  It further alleges that Guzman had rival members of other drug cartels killed during his reign, especially between a war with the rival Juarez Cartel between 2007 and 2011.
"Guzman Loera is the alleged leader of a multi-billion dollar, multi-national criminal enterprise that funneled drugs onto our streets and violence and misery into our communities," Acting AG Yates said in statement obtained by LawNewz.com. "We are deeply grateful to the Government of Mexico for their assistance in securing Guzman Loera's extradition. The Mexican people have suffered greatly at the hands of Guzman Loera and the Sinaloa Cartel; Mexican law enforcement officials have died in the pursuit of him. We will honor their sacrifice and will honor Mexico's commitment to combat narco-trafficking by pursuing justice in this case."
El Chapo faces up to life in prison based on the charges alleged against him.
[image via screengrab]
Have a tip we should know? [email protected]