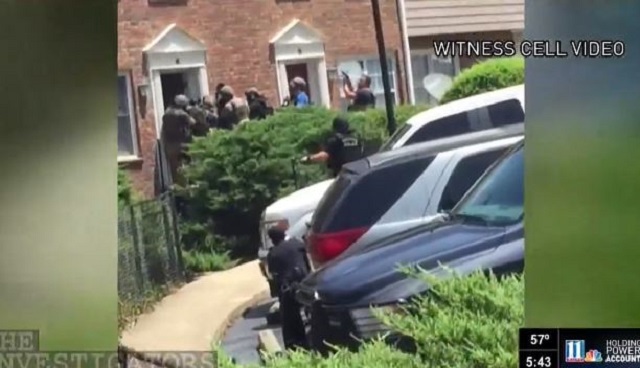 The family of Jamarion Rashad Robinson, an Atlanta man allegedly shot at least 59 times by police officers, filed a civil rights lawsuit Wednesday, claiming that Robinson, a diagnosed schizophrenic, lost his life "without legal justification." Robinson was killed while officers attempted to execute an arrest warrant in August 2016 at Robinson's girlfriend's apartment. He was 26-years-old.
The lawsuit claims Robinson presented no threat to the 10 named and 11 unnamed law enforcement officers listed as defendants. According to court documents, the officers were participating in a "joint venture" between multiple Georgia state police departments, including the Fulton County Police department, Clayton County Police and Fire department, Fayette County Sheriff's office, and the East Point Police department. The United States Marshall's Service was also a part of this task force.
According to WSB-TV 2 Atlanta, officers had been searching for Robinson since July 2016, when he exchanged fire with police at another Atlanta apartment building, before going on the run. Officers say the day before the exchange, Robinson threatened a maintenance worker with a gun.
At the time of the first confrontation with officers, Deputy Chief Erika Shields was quoted citing Robinson's mental illness, saying to local reporters, "We may be dealing with someone with some level of mental illness erratic behavior, but unfortunately that doesn't make the impact of bullet any less powerful."
The lawsuit claims that officers broke down the door of Robinson's girlfriend's apartment, where he had been staying, and "began 'spraying' bullets" with one or more machine guns, submachine guns, and glock pistols without knowledge of who may be inside the building. The complaint says that at at least 59 bullets struck Robinson, resulting in his death. Reports have the total number of gunshot wounds as high as 76.
The suit also claims that with the intention of making the shooting difficult to reconstruct, officers continued shooting at a lifeless Robinson, handcuffed and moved Robinson's body, and tampered with other evidence in the apartment.
A video of the shooting was streamed on Facebook live and shared with the local Atlanta station, according to the local outlet. It is reported that you can hear authorities shouting commands at Robinson, telling him to throw out his gun. The video is no longer available online.
Officers were accused of failing to investigate Robinson's mental health prior to executing arrest, and being improperly trained to arrest people with psychiatric conditions.
[Image via 11Alive screengrab]
Have a tip we should know? [email protected]