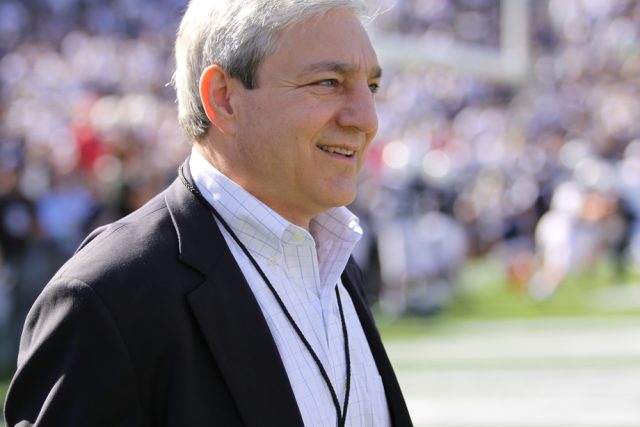 HARRISBURG, Pa. (AP) — Former Penn State president Graham Spanier was convicted Friday of hushing up suspected child sex abuse by Jerry Sandusky in 2001.
Jurors found Spanier guilty of one count of child endangerment over his handling of a complaint against the retired assistant football coach but found him not guilty of conspiracy and a second child endangerment count.
Spanier showed no emotion after the verdict was read after 13 hours of deliberations.
The trial centered on how Spanier, 68, and two other university leaders handled a complaint by a graduate assistant who said he reported seeing Sandusky sexually molesting a boy in a team shower in 2001. They told Sandusky he could not bring children onto the campus anymore but did not report the matter to police or child welfare authorities.
Sandusky was not arrested until 2011 after an anonymous tip led prosecutors to investigate the shower incident. He was convicted the next year of sexually abusing 10 boys and is serving a decades-long prison sentence.
Four of the eight young men testifying at Sandusky's trial said the abuse occurred after 2001.
"Evil in the form of Jerry Sandusky was allowed to run wild," Deputy Attorney General Patrick Schulte told the jury.
The scandal sent shockwaves through the Penn State community. It led to the firing of Hall of Fame coach Joe Paterno — who died of cancer at 85 in early 2012 — and resulted in the school paying out more than $90 million to settle civil claims by over 30 accusers. Paterno was never charged with a crime.
Two of Spanier's former lieutenants, athletic director Tim Curley and vice president Gary Schultz, pleaded guilty to misdemeanor child endangerment charges a week ago and testified against Spanier.
But all three denied they were told the encounter in the shower was sexual in nature.
A key piece of evidence was an email exchange in which the three debated what to do after getting the report from graduate assistant Mike McQueary.
Spanier approved having Curley tell the retired coach to stop bringing children to athletic facilities and inform The Second Mile, a charity for at-risk youth founded by Sandusky.
But the evidence also showed they had earlier planned to inform the state Department of Public Welfare. Instead, Spanier approved putting that on hold, and the agency was never contacted. That failure to make a report formed the heart of the criminal accusations against him.
"The only downside for us is if the message isn't 'heard' and acted upon, and we then become vulnerable for not having reported it," Spanier told Curley and Schultz in 2001 in the email exchange. He called the plan "humane and a reasonable way to proceed."
Spanier's attorney, Sam Silver, said the case involved judgment calls by high-ranking university administrators in dealing with the complaint that Sandusky had been seen naked with the boy in a team locker room.
A state prosecutor, Laura Ditka, said the three university leaders wanted to protect the university's reputation at the expense of children.
"They took a gamble," she told the jurors. "They weren't playing with dice. They were playing with kids."
A report commissioned by the university and conducted by former FBI Director Louis Freeh concluded that the beloved coach and the three others hushed up the allegations against Sandusky for fear of bad publicity.
Schultz and Curley testified they never told Spanier that the incident reported in the shower was sexual.
"Mr. Schultz made clear — he, Gary Schultz, told Graham Spanier that it was horseplay," Silver said.
But McQueary contradicted them, testifying he did say it was sexual.
McQueary said he told the athletic director and vice president that he saw Sandusky behind a prepubescent boy, in a dark shower at night, with his hips moving slightly.
"Do you think that's horseplay?" Ditka asked jurors.
This article was written by Mark Scolforo from the AP.
[Image via Richard Paul Kane/Shutterstock]
Have a tip we should know? [email protected]