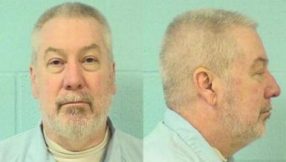 MENARD, Ill. (AP) — Former suburban Chicago police officer Drew Peterson has been transferred out of the Illinois prison system and is now listed in a federal Bureau of Prisons database.
Illinois Department of Corrections spokeswoman Nicole Wilson said Tuesday that Peterson had been transferred but declined to say why or where, citing security.
Peterson was sentenced to 38 years in prison for the death of his third wife, Kathleen Savio. The investigation into her 2004 death was reopened when Peterson's fourth wife, Stacy Peterson, went missing in 2007.
Peterson was sentenced to another 40 years in prison last year for trying to hire someone to kill a prosecutor.
The 63-year-old Peterson is listed in a federal database. Illinois records show Peterson is at a transfer center.
[image via Illinois Department of Corrections]
Have a tip we should know? [email protected]