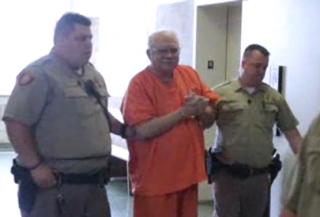 A Tulsa, Oklahoma judge sentenced Robert Bates on Tuesday, after a jury convicted the former Sheriff's deputy in April for killing unarmed suspect Eric Harris, Tulsa World reported. Taking into account the jury's recommendation and the results of an investigation that took place after the trial, Judge William Musseman sentenced Bates to four years in prison, which was the maximum penalty.
Nine witnesses spoke at Bates's sentencing hearing, including Harris's son Aidan Fraley, who said, "I'll forgive Mr. Bates, but there are still consequences for your actions."
Judge Musseman acknowledged Bates's service to his community before the shooting, that appeared to be a result of Bates firing his gun when he meant to use a Taser. But the judge said that Bates "found himself in that position because of his own decisions," since he asked to be part of the team that was attempting to arrest Harris.
Bates's wife Charlotte was distraught over the sentence. While saying that Harris's death was tragic, she claims four years in prison will kill her husband too. She said after the sentencing hearing, "to put my husband in prison for four years — my husband will die — and I want all of you to know you're part of the responsibility for that."
Clark Brewster, Bates's attorney, argued for probation instead of prison, and said that he will appeal the sentence.
Have a tip we should know? [email protected]