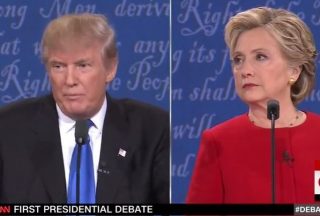 During Monday night's Presidential debate, the concept of stop and frisk came up. The practice, once used by police as a method of searching people without arresting them (which would require probable cause), was highly controversial. Hillary Clinton mentioned that it was ruled unconstitutional, but Donald Trump insisted that it wasn't. In fact, he cut-off moderator Lester Holt, and told him "You're wrong" when Holt asserted that a judge ruled it unconstitutional.
"It went before a judge who was a very against police judge. It was taken away from her and our mayor, our new mayor, refused to go forward with the case. they would have won an appeal," he said. But that's not entirely accurate.
Trump is wrong about the judge's ruling, but it's complicated. U.S. District Court Judge Shira Scheindlin did rule in 2013 that the stop and frisk practice violated the Constitution in the landmark case, Floyd v. City of New York. But it didn't end there.
Judge Scheindlin ruled that stop and frisk, in practice, had a discriminatory effect on blacks and Hispanics, violating the Fourth and Fourteenth Amendments. "The Equal Protection Clause's prohibition on selective enforcement means that suspicious blacks and Hispanics may not be treated differently by the police than equally suspicious whites," the judge said. You can read Judge Scheindlin's opinion below.
However, the city did ask the Second Circuit Court of Appeals to vacate the ruling, but the court said no. Scheindlin was removed from the case, so Trump was right about that. The city later reached a settlement with the plaintiffs that involved withdrawing their appeal.
Have a tip we should know? [email protected]