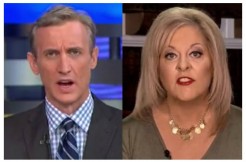 If you're familiar with high-profile legal analysts, you already know LawNewz.com founder Dan Abrams and TV host Nancy Grace tend to disagree. Well, man, did it happen again this morning.
Grace is furious over the light sentence a judge gave to an 18-year-old athlete in a rape case.  David Becker, a basketball player at East Longmeadow High School, was accused of digitally penetrating two sleeping girls, also 18, after a house party. Prosecutors charged him with two counts of rape, and one count each of indecent assault and battery.
On August 15, Massachusetts Judge Thomas Estes ordered this case continued without a finding for two years, Massachusetts Live reports. Becker admitted to sufficient facts, but will avoid a guilty verdict as long as he sticks to the terms of his probation: stay away from intoxicants including alcohol, stay away from the two women he's charged with assailing, and he must undergo sex offender treatment.
Estes believed Becker actually suffered enough. "There have already been significant consequences, collateral consequences, to simply being charged with the offense in the first place," he said in a June plea hearing according to GMA.
Prosecutors sought two years in prison, not probation.
An online petition now calls for Estes' removal from the bench, with over 15,000 signatures as of Thursday morning.
On a GMA's segment Thursday morning,  Abrams and Grace were brought on for legal analysis.
"No question this is a lenient decision," Abrams told ABC's George Stephanopoulos. "This guy should be incredibly appreciative. This is a lucky, lucky young man that he is not serving time based on this crime. With that said, I think the fact that one of the victims said that she thought he should get probation was very helpful to him in this case."
Grace disagreed "on so many levels," although she initially seemed to be disagreeing with the judge saying he went beyond even the defense's goal.
"The reality is the judge went a step further," she said. "He says, 'Well, if you don't drink and you don't do drugs, and you don't contact the victims in two years, the whole thing will be dismissed.' It's like it never happened. And Dan is right about something. He said that one of the victims said 'I don't want him to go to jail.' You know what? I get it. She is feeling guilty like it's her fault this happened to her."
Things got testier from there. They debated whether prosecutors should ever cut deals in cases like these and then when Abrams was asked about the comparison between this case and the controversial Stanford swimmer Brock Turner sentence, he responded that the six month sentence in the Turner case may be even harder to defend than this case. Grace sarcastically remarked, "I don't know. Is one rape worse than any other rape?" Abrams responded by explaining that yes, the law treats different sets of facts differently.
Afterwards Abrams took to Twitter to respond to a variety of viewers who seemed to think his explanations of the case were somehow a defense of Becker and/or the judge:
Seems some misinterpreting our debate @gma. I think beckers sentence too lenient, fair to criticize judge. Just explaining why it happened.
— Dan Abrams (@danabrams) August 25, 2016
Watch the video embedded above.
[Screengrab via ABC]
–
Follow Alberto Luperon on Twitter (@Alberto Luperon)
Have a tip we should know? [email protected]