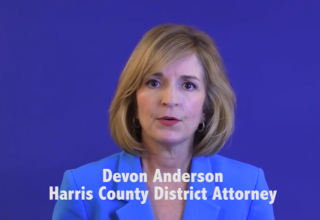 Earlier this week, I wrote about the Texas prosecutors who sent a rape victim to jail for nearly a month in order to make sure she testified at trial. The woman, identified as Jane Doe, is suing Harris County, their Sheriff, and members of the District Attorney's office. Harris County District Attorney Devon Anderson released a video statement in response to coverage of the story by news outlets, addressing local KPRC in particular. In the statement below, Anderson defends her office's decision to put Jane Doe in jail, saying that she was homeless and facing a "life-threatening mental health crisis," so there was no way to assure that she would come back to court on her own.
After the statement was released, Jane Doe's attorney Sean Buckley told KPRC that Doe was not homeless at the time, and that Anderson's office knew this. After all, he said, "her investigators were the ones who went there to pick Jenny up at her apartment and bring her to Houston to testify" when she appeared in court back in December. "Now that I know the district attorney's office is willing to lie to the public about the facts of this case," Buckley said, "I've got to protect my client. I'll be sending out subpoenas for their emails and phone records."
What bothers me the most about Anderson's statement is how she appears genuinely angry that there's backlash over jailing a rape victim. She could have expressed sympathy for Doe, and explained to viewers that despite the extremely sensitive nature of the situation, her office felt it was in the best interest of achieving justice in the case to make sure she testified. She could have acknowledged that it's reasonable to be sympathetic. Instead, she says, "This office has a long history of supporting victims of crime. To claim otherwise is outrageous." It's as if she's saying, how dare she be accused of making a mistake, and how dare all of us for being upset by it! Disgusting.
Yet she had the nerve to say, "seeking justice for crime victims is what this office is all about." Really? Because it's pretty clear that the office didn't give a damn about the victim in this case. Anderson said that Doe had a "life-threatening" mental condition, yet prosecutors didn't even ask that she be placed in the Mental Health Unit, according to the Sheriff's statement.
Even if one could somehow justify the prosecutors' actions in this case (which I certainly do not), how could you not even express sympathy for the victim? District Attorney Anderson and her office have lost sight of what their jobs are supposed to be about. The insensitive manner in which she has addressed the situation gives her office and her profession a bad name.
Have a tip we should know? [email protected]