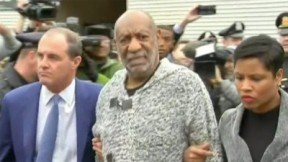 Montgomery County District Attorney Kevin Steele filed a motion today to dismiss a defense petition filed by Bill Cosby. Cosby claims that that his charges should be thrown own – because of an agreement he made with a former DA not to prosecute him.
District Attorney Steele claimed in his response that Cosby is just trying to seek preferential treatment by having this matter heard before the preliminary hearings. Preliminary hearings are the next step in the legal process for Cosby. Additionally, Steele's response alleges that Cosby's legal team is attempting to undermine that process by distracting from the allegations against the comedian.
Steele alleged that the defense attempted to dismiss the charges against Cosby by advancing three meritless claims. The most significant claim contends that a former district attorney, Bruce Castor, granted Cosby immunity. Steele says district attorneys don't have that kind of power. Only a judge may issue a grant of immunity, he contends. Further, the 2005 press release explicitly states the decision not to prosecute Cosby may be reconsidered and is therefore not absolute.
Mr. Cosby's defense team also attempted to remove District Attorney Steele and his office, which Steele claims is a flagrant attempt to pick and choose a prosecutor who would look most kindly upon Cosby's case.
[h/t ABC News]
Have a tip we should know? [email protected]