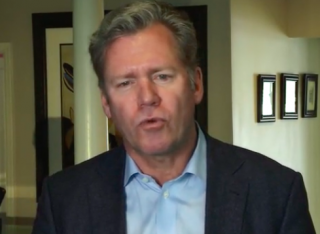 Former NBC host Chris Hansen is under fire from donors who gave money to his crowdfunding effort, which was to be used to fund a new project called "Hansen v. Predator." The independently funded show is spin off of the longtime ratings dominator "To Catch a Predator."  Hansen left NBC in 2013 but wanted to keep his popular franchise going. In April 2015, Hansen announced the new project and turned to KickStarter to help fund it. Kickstarter is a crowdfunding website that relies on small donations from people across the United States.  Hansen quickly met his goal and raised nearly $90,000 from 1,220 backers for the project. As part of the deal, Hansen promised that donors would receive items like coffee mugs, t-shirts, signed books, credits on the show, personalized videos, and parties. Backers gave him anything from $20 to $2,000. Despite Hansen's promise that the rewards would be shipped by December 2015, donors say they haven't received a thing.  Hansen said he finished filming one sting which nabbed 10 alleged sexual predators, but no footage of the sting has emerged yet. Some are even threatening legal action.
"You deal with kickstarter to help these people out.. to get screwed over by someone you've seen on tv.. kind of hurts," Eric Cohen, who donated to the project, told LawNewz.com. Cohen said he has sent several emails to Hansen's office, and hasn't heard back.
In April, Hansen posted an update on the website: "Thank you for being so patient as we are now finally getting to bring your rewards to you. Now that the investigation is in post-production, our team is working hard to make sure each one of you receives your rewards."
However, four months after that update, donors say they STILL have not received their rewards. Cohen believes Hansen has been stringing them along for more than a year.  And he is not alone. Here is a sampling of some of the comments from backers on Hansen's Kickstarter page:
"We got scammed! We really need to get a hold of some news outlets to set up a sting on Chris Hansen. when he shows up, we can instruct him to have a seat and pull all of the updates they promised us and grill the shit out of them. It really is sad that they screwed us over so badly."

"Expected my reward last December. Next week it's July. WTF is going on?
First episode isn't even out yet?! you got 15k more than you asked for yet you manage to treat your supporters like trash… way to go!"

"I work in film and television and I find this whole process to be a joke. EVERY BACKER IS AN INVESTOR. Would you have left your executives producers in the dark at a major network? No. Then why are backers so completely in the dark here."

"Never backing a project again. This experience sucks for actual artists that are honest and could use the funding with full intent to honor their commitments. Chris Hansen should be ashamed of himself. Total loser."

"Rewards were due out 6 months ago. I call bullsh*t on this one…"
"Dear Team Chris Hanson; Thank you for the expensive lesson on how not to back another Kickstarter project. Your communication is lacking even the slightest credibility. "We're doing it all by ourselves. Phew!" Seriously? How else would this project be done? You haven't even ordered the backer items yet? Isn't this going on a year? I'm really not interested in hearing anymore non-update, updates."
Not one backer, on the website, says they have received a reward. LawNewz.com contacted Hansen's team to figure out the status of the project, we haven't heard back. But, shortly after we contacted his team, they posted an update to the donors on the Kickstarter website:
All Backers will receive what has been promised to them. Our focus was to get the investigation completed and then to fulfill rewards. All of this has taken a lot longer than our estimated delivery date and we do apologize for that. Our team is working daily to organize each backer reward and to also make sure the negotiations for the show are handled correctly.

Doing this on our own has been a huge undertaking and definitely would not have been possible without every single one of you. While we haven't been very communicative recently that does not mean that we are off vacationing somewhere. Chris Hansen has finished filming Killer Instinct Season 2 and is working with his Hansen News Network to lock down the deal for how this show and how it will reach the public.
If we hear back from Hansen's team, we will be sure to update our article.
[image via screengrab]
Have a tip we should know? [email protected]
Rachel Stockman - President / On Air Host