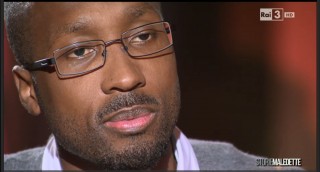 Last fall, Italy's highest court cleared Amanda Knox and her former boyfriend, Raffaele Sollecito, of the 2007 murder of British student Meredith Kercher in Perugia. The couple had spent four years imprisoned on murder charges stemming from an alarmingly flawed case. The high court noted the botched investigation and lack of forensic evidence linking the pair to the gruesome murder of Kercher, Knox's roommate.
So when the one person who left a mountain of incriminating evidence linking himself to the bloody murder scene  recently spoke out from jail pointing the finger, once again, at Knox, I was unimpressed. Rudy Guede told Italian Television channel RAI 3 that once again he is innocent. Guede is lucky that he's not serving a longer sentence. In fact, if he committed this murder in the U.S., he would be in prison for life or, perhaps, he would be facing death.
Despite his guilty plea, Guede repeated a contradictory, self-serving version of events on Italian television this week. Guede was visiting Kercher at her invitation on November 1, 2007, he claims. The two were kissing but didn't have sex. His stomach was upset so he went to the bathroom. During the 10-11 minutes he was in the bathroom, Guede asserts, Knox and an unidentified man killed Kercher. As Guede emerged from the bathroom, he saw a man flee. He had recognized Knox from her voice he says, though he apparently didn't see her. Guede ran to Kercher in the bedroom, tried to stop the bleeding from a gaping wound on her neck and then, he claims, got scared that he'd be blamed and fled. By the way, Kercher's bedroom door was found locked from the inside, so Guede must have fled through the bedroom window.
Hours later, when Knox and Sollecito arrived at the house, they called the police. In the room with Kercher's partially-clad body were Guede's fingerprints and DNA. There was no forensic evidence linking Knox or Sollecito to the room. A bloody bra clasp found on the floor and collected six weeks later, which purportedly had Sollecito's DNA, was not reliable due to contamination.
Not only did Guede flee the scene, he fled the country and was apprehended a week later in Germany.
It can be insightful to hear from killers, especially if they're remorseful and want to ask forgiveness. It is also insightful, and important, to listen to convicted killers who have a viable claim of innocence—supported by credible evidence or a lack of it. Guede has neither.
[screengrab via RAI 3]
Have a tip we should know? [email protected]