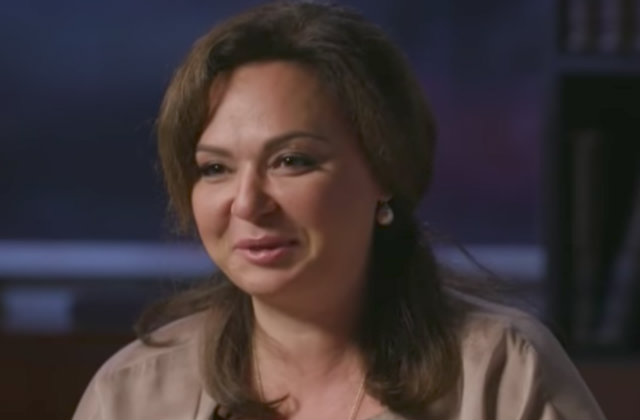 Judicial Watchdog, a conservative government watchdog, sued the Department of Justice in D.C. federal court Wednesday to learn why Russian lawyer Natalia Veselnitskaya was in the United States. They demand all records of communications to or from officials in the offices of the Attorney General and Deputy Attorney General about the immigration parole issued to her between January 1, 2015 and December 31, 2016.
Law Newz reached out to the DOJ for comment.
Veselnitskaya became infamous as the lawyer who Donald J. Trump Jr. met in June 9, 2016 to get dirt on Hillary Clinton. A special counsel and several congressional committees are investigating whether the Trump campaign colluded in the Russian government's interference in the 2016 election. But for Judicial Watch, their focus wasn't on the president or his son. It was on Fusion GPS, a firm that did opposition research on behalf of Democrats.
In their press release about the lawsuit, they included an excerpt from Fox News report which said the company's co-founder met Glenn Simpson met with Veselnitskaya before and after the infamous June  meeting.
The co-founder of Fusion GPS, the firm behind the unverified Trump dossier, met with [Veselnitskaya] before and after a key meeting she had last year with Trump's son, Fox News has learned. The contacts shed new light on how closely tied the firm was to Russian interests, at a time when it was financing research to discredit then-candidate Donald Trump.

The opposition research firm has faced renewed scrutiny after litigation revealed that the DNC and Hillary Clinton's campaign paid for that research. Congressional Republicans have since questioned whether that politically financed research contributed to the FBI's investigation of Russian collusion with the Trump campaign – making Fusion's 2016 contacts with Russian interests all the more relevant.
The outlet relied on a "confidential source," who said these two met at a courthouse before the Trump Tower meeting. Fox said they reviewed court records, emails, and published reports to corroborate this. The source also said the pair were together after the Trump Tower meeting.
Lawyers for Veselnitskaya and the firm didn't respond to Fox's requests for comment.
Fusion GPS became infamous through their role in the "Trump Dossier." At first, they started doing opposition research on behalf a GOP donor (conservative outlet The Washington Free Beacon said this was them) before approaching the Democrats to do opposition research on Republican nominee Trump. After the law firm Perkins Coie retained them in April 2016, Fusion hired former British intelligence officer Christopher Steele, who put together a dossier based on his research. The Beacon insists they had no role in this.
President Trump has denied the salacious, verified allegations in the dossier. He called the Russia investigations a "witch hunt" by Democrats.
[Screengrab via MSNBC]
Correction – Nov. 9, 8:24 p.m.: The earlier version of this article said that Justice Watch sued on Thursday, Nov. 9. They actually filed Wednesday, Nov. 8.
Have a tip we should know? [email protected]