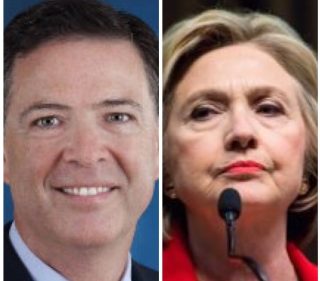 The presidential election was turned on its head nearly 10 days ago when FBI Director James Comey sent a letter to lawmakers informing them about the discovery of additional emails related to the investigation of Hillary Clinton's email server.  Then on the Sunday before the election, Comey sent lawmakers another letter informing them that a review of the newly found emails did not change the conclusions expressed by the FBI in July with respect to Secretary Clinton.  That is clearly good news for the former Secretary of State and it is understandable that the major takeaway of the letter is that Clinton is off the hook again.  However, a closer look at the language used in the letter suggests the latest FBI investigation has only cleared Clinton — her aides may still be in legal jeopardy.
"[W]e reviewed all of the communications that were to or from Hillary Clinton while she was Secretary of State," Comey wrote in his letter on Sunday.  "Based on our review, we have not changed our conclusions that we expressed in July with respect to Secretary Clinton" (emphasis added).
That last phrase may prove to be very important.  It seems to suggest the latest investigation (conducted on an expedited basis over only 7 days) was only targeted at any emails found on the new device that were sent or received by Clinton.  That leaves open the possibility that further investigation may still be ongoing with respect to Clinton's aides, including Huma Abedin, Cheryl Mills and Heather Samuelson.
Abedin could possibly be in jeopardy if newly discovered emails provide evidence that she was untruthful about anything she told FBI agents during her interview earlier this year.  If that is the case, Abedin could face a threat of prosecution for lying to FBI agents.  Additionally, Abedin provided sworn statements under oath about the Clinton email server as part of a Freedom of Information Act lawsuit brought by the government watchdog group Judicial Watch.  She also testified under oath before the Select Committee on Benghazi.  If new emails contradict her prior testimony in the FOIA lawsuit or before Congress, she could still face charges for lying under oath.
It has also been reported Mills and Samuelson received some sort of immunity deal from the Justice Department during the Clinton email investigation.  Most legal observers believe neither aide received blanket immunity from prosecution.  Rather, the consensus seems to be that both received limited immunity deals that essentially shielded them from prosecution based on any evidence that may have been uncovered from laptops the two aides are thought to have surrendered to FBI agents. For example, if FBI agents discovered classified materials on the laptop, that evidence could not be used against them in a prosecution. However, those agreements likely would not protect them from prosecution if FBI agents were able to obtain the same or similar evidence from a different source — such as the Weiner laptop.  Additionally, both Mills and Samuelson could also face prosecution if newly uncovered evidence suggests they lied to FBI agents during interviews in the Clinton email case.
The bottom line is this: all that can be said about Sunday's announcement is that it is unquestionably good news for Hillary Clinton with respect to her role in the email investigation.  That is certainly a sigh of relief for Clinton supporters.  At the same time, however, Comey's carefully worded statement leaves open the very real possibility that some of Clinton's top aides may not fully share in that sense of relief.
This is an opinion piece. The views expressed in this article are those of the author. 
This is an opinion piece. The views expressed in this article are those of just the author.