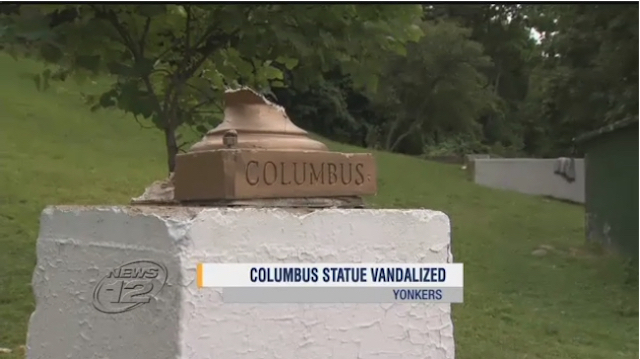 Columbus Memorial Park in Yonkers, New York is currently without a graven image of its namesake.
Sometime in the past couple of days, vandals toppled and smashed a two-foot tall plaster-and-bronze bust of the man known in Italian as Cristoforo Colombo, in Spanish as Cristóbal Colón, and to most of the English-speaking world as Christopher Columbus.
The commemorative statue was discovered in two separate pieces–one near the base of its former pedestal and the other atop a hill in the vicinity of the park. According to neighbors interviewed by News 12 Westchester, the vandals struck the iconic bust over the weekend. Yonkers Police Commissioner Charles Gardner said:
At this point, it's possibly kids engaging in criminal mischief. But we're going to conduct a thorough investigation and see what we find. But it appears just criminal mischief at this time.
Some, however, believe other motives are afoot. According to a local NBC affiliate, police are also investigating whether the toppling has any relation to the spate of statue removals which have occurred in the wake of the violence in Charlottesville, Va. earlier this month.
Yonkers resident Pat Gamaberdella believes the bust was destroyed for political reasons. He said, "It's very upsetting that American values have sunken to the level they are today. We can't just desecrate a monument to them just because you don't like what they did."
Columbus is famous in the United States for the myth that he discovered the Americas. Aside from foundational mythology taking the place of history, Columbus' memory is controversial because of the ensuing enslavement, rape, and mass murder of natives that occurred both on his watch and the wake of his "discovery."
Another resident interviewed by NBC 4 New York took a more nuanced view. Chantel Cleckley said, "I think it should be taken down, but I don't think going about it and defacing it is the way to do it. That just makes the other side angry."
Miles away from Yonkers, New York City's Mayor Bill de Blasio is currently weighing a proposal to remove a much larger statue of Columbus from the perhaps-soon-to-be-renamed Columbus Circle.
[image via screengrab]
Follow Colin Kalmbacher on Twitter: @colinkalmbacher
Have a tip we should know? [email protected]