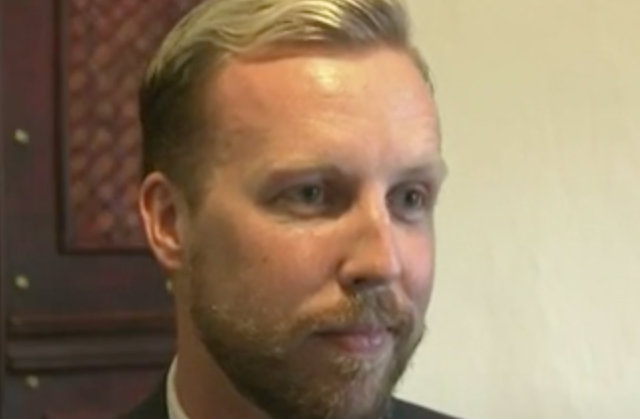 In a lawsuit filed with King County, a Washington State lawyer said a Christian group rejected him for being bisexual. Attorney Matt Brown, 31, sued Union Gospel Mission Thursday. He claimed they violated a discrimination law by turning him away.
The group serves poor and homeless people. That includes providing free legal clinics at the Open Door Legal Services programs. Brown, who is Christian, used to intern and volunteer there as a law school student. Judging by the complaint, it went well and he wanted to stay. In 2016, he heard about an open staff attorney position with the ODLS, and asked others about it.
According to his complaint, ODLS staff attorney Alissa Baier replied, saying she, ODLS Director David Mace and others were "wondering … if you would be looking for something new. Please do apply!"
That positive tone didn't last long. Woods said he contacted Mace about the staff position on Oct 13, and disclosed that he was in a same-sex relationship with a man. The next day, Mace turned him away, saying he wouldn't be able to apply because of UGM's Employee Code of Conduct.
From the lawsuit:
UGM's Employee Code of Conduct states: "All staff members are required to sign the doctrinal standard of Seattle's Union Gospel Mission. Are staff members are expected to live by a Biblical moral code that excludes … homosexual behavior … and any activity that would have an appearance of evil."
It bans same-sex relationships by staffers. According to the complaint, the code of conduct didn't apply to interns or volunteers.
Mace rejected Woods again after Woods filed an application. Once again, it was because of the plaintiff's sexual orientation and his being in a same-sex relationship.
Woods' lawsuit stated that this violated Washington's anti-discrimination law, and caused the plaintiff financial harm.
In interviews with other outlets, UGM president Jeff Lilley defended the decision to turn Woods away. "We hire people passionate about the Bible," he said to the Seattle Times. "We ask they live lifestyles that are consistent with biblical values."
UGM did not immediately respond to a Law&Crime follow up request for comment.
[Screengrab via KIRO7]
Have a tip we should know? [email protected]