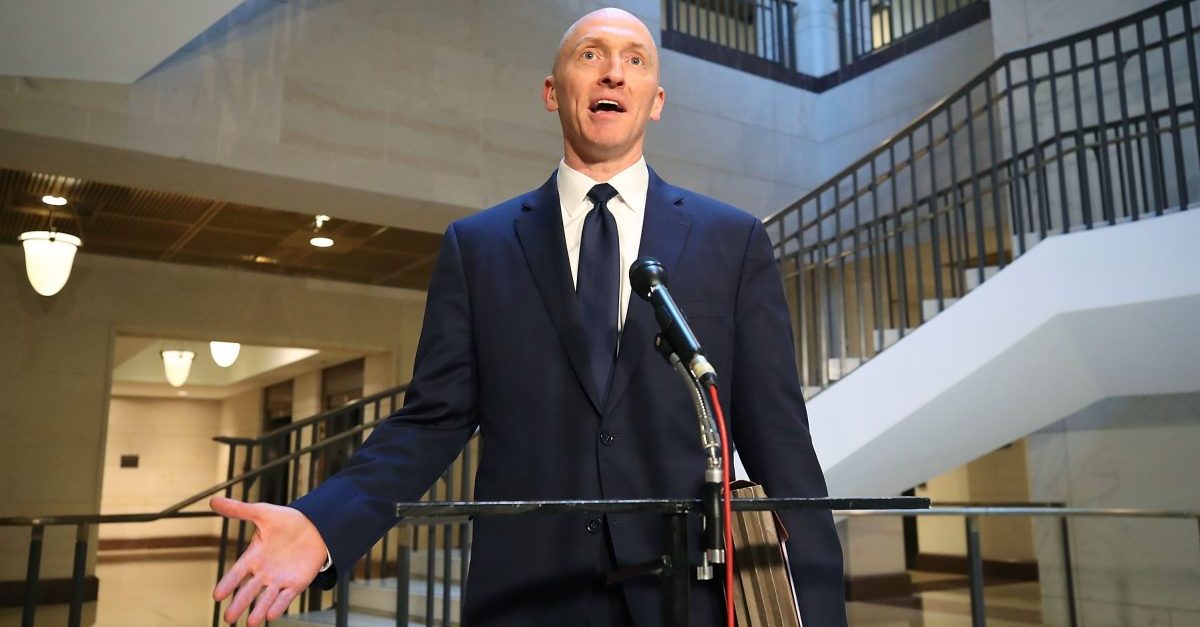 The sentencing hearing for a Senate Intelligence staffer James Wolfe, who pleaded guilty to lying to the FBI, took place on Thursday — and apparently former Trump campaign adviser Carter Page wanted to pitch in his two cents. Wolfe was sentenced to two months in prison after admitting that he had lied to investigators about his contacts with members of the press. A court filing said that Wolfe had discussed classified information regarding a FISA warrant application–supposedly the one used to monitor Page.
According to the Wall Street Journal's Byron Tau, Page submitted a document to the court regarding Wolfe's sentence, but Judge Ketanji Brown Jackson didn't seem to be impressed.
Carter Page sent an "amicus brief" to the judge in the case of the Senate staffer accused of lying to the FBI and of leaking info about him to reporters. Judge says it does not appear to be relevant: "The document will have no bearing on the court's sentencing determination"

— Byron Tau (@ByronTau) December 20, 2018
The judge apparently didn't think the document was of any significance, and would therefore "have no bearing on the court's sentencing determination."
This was supported by reporting from BuzzFeed News' Zoe Tillman, who said that the judge did not refer to Page by name (only using the moniker "MALE-1"), but that reports appear to support that the document did come from Page.
The judge, US District Judge Ketanji Brown Jackson, said she would make the "MALE-1" letter public after today's hearing, but wouldn't give it weight at sentencing because it didn't speak to sentencing factors and the govt hadn't said it qualified as a victim impact statement

— Zoe Tillman (@ZoeTillman) December 20, 2018
Tillman added that the judge announced that the letter from MALE-1 would be made public after Wolfe's hearing. Sentencing guidelines called for 0-6 months in prison, and federal prosecutors unsuccessfully pushed for an upward departure to sentence him to two years. Wolfe hoped to avoid prison altogether. In a statement to the court, Wolfe said he lied to the FBI "to protect my wife, my sons, and selfishly I lied about those to protect myself and my job."
Wolfe is delivering an emotional statement to the judge before he is sentenced. His voice breaking up, he says that he lied to the FBI about his contacts with reporters "to protect my wife, my sons, and selfishly I lied about those to protect myself and my job"

— Zoe Tillman (@ZoeTillman) December 20, 2018
[Image via Mark Wilson/Getty Images]
Have a tip we should know? [email protected]