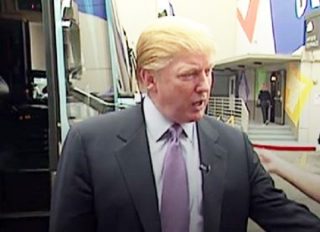 When the recording of Donald Trump talking about kissing women without asking and being able to "grab them by the pussy," aired on television, everyone reacted with the same two questions: 1) Was Trump just talking about sexually assaulting women? and 2) Did they just say pussy on TV?
Well, according to records obtained by Vice News through a Freedom of Information Act request, plenty of people were upset by the objectionable language. Almost two dozen people filed complaints with the Federal Communications Commission, which sets regulations for permissible televised content. In many cases, profanity is censored with a bleep or is muted, but with the Trump tape, the foul language made it on the air. Most of the complaints targeted CNN in particular, with one specifying MSNBC.
So what's the deal? Can the FCC do something about this to try and prevent this from happening again? Well, in this case, no. The FCC's regulations on profanity don't apply to cable channels, because they are subscription services. Satellite TV and Satellite radio are also exempt. When it comes to regular broadcast channels, they only apply between the hours of 6am and 10pm, when there is a reasonable expectation that children may be watching. One of the FCC complaints that Vice published was against NBC for a "F*ck Trump" sign appearing uncensored in the background of a clip that aired on the broadcast channel, but the airing in question was at 11pm.
According to the FCC's website, if a broadcast (non-subscription) channel were to violate the rule by airing profanity, the FCC "has the authority to revoke a station license, impose a fine or issue a warning." The government describes the standard for profane language as "those words that are so highly offensive that their mere utterance in the context presented may, in legal terms, amount to a nuisance."
Most television content is subject to a ratings system, which lets people know what sort of content they can expect, with guidelines for which ages are deemed appropriate. Parents can block content based on those ratings. However, news, sports, and movies that air unedited on premium cable channels are not rated for television.
[Image via screengrab]
Have a tip we should know? [email protected]