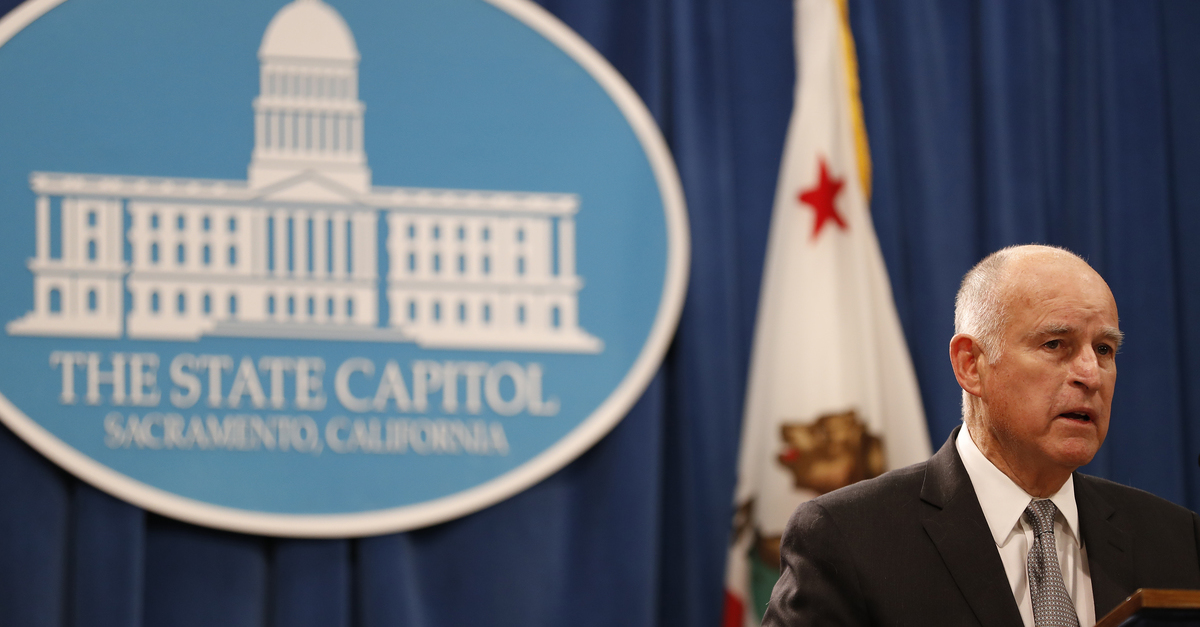 With the swift signature-bearing motion of Governor Jerry Brown's pen, California became the first state in the nation to eliminate cash bail for criminal offenders. While Brown signed the bill into law, the journey to this point was mostly undertaken by the hard-fought efforts of criminal justice reform advocates on the Left Coast and across the country.
The sweeping legislation–the first of its kind in these United States–will go into effect in 2020 and reaches much further than any other current method to remove money from America's pretrial detention regime.
Under Senate Bill 10, California will replace cash bail with a system of "risk assessments" and other non-monetary conditions of release. Those additional conditions will be meted out based upon the aforementioned risk assessment–overseen by newly-established Pretrial Assessment Services agencies.
Risk assessments will be undertaken by these county-level agencies tasked to evaluate individuals arrested on felony charges. Low-level (misdemeanor) and non-violent offenders will typically be processed in accordance with their alleged crimes before being released on their own recognizance. The bill notes:
A person arrested or detained for a misdemeanor, other than a misdemeanor listed in [a separate section of the bill] may be booked and released without being taken into custody or, if taken into custody, shall be released from custody without a risk assessment by Pretrial Assessment Services within 12 hours of booking. This section shall apply to any person who has been arrested for a misdemeanor other than those offenses or factors [mentioned elsewhere in the bill.]
For felony arrestees, however, county officials will determine their potential for: (1) skipping out on later proceedings; and (2) recidivism.
Each individual arrested on felony charges will be graded as either "low-" "medium-" or "high-risk." Low-risk individuals would be released with minimal conditions on their own recognizance. Medium-risk offenders could be held or released based upon rules to be outlined by local-level superior courts. High-risk individuals would be held in custody until their arraignment.
Certain categories of offenses would likely qualify an individual as high-risk, such as, according to the statute, "domestic violence, sex crimes, and other crimes of violence."
Ending cash bail has recently become a high priority for criminal justice reform advocates, who note that the nation's jails are filled with poorer individuals forced to remain in custody simply due to their inability to afford bail. This fact, such advocates contend, has resulted in the unequal application of justice based on wealth.
But not everyone who initially pushed for the bill is happy with its final form. On August 20, the ACLU and other advocates pulled their support and vowed to lobby against the measure after learning of a provision which gives prosecutors broad authority to argue in favor of "preventative detention" to be decided by a judge. This provision, the ACLU and other reformers say, will likely result in more people being imprisoned–not fewer.
For those worrying whether the bill would somehow allow violent criminals to roam free, well, don't. The text of the statute notes:
The bill would create a rebuttable presumption that no condition of pretrial supervision will reasonably assure public safety if, among other things, the crime was a violent felony or the defendant was convicted of a violent felony within the past 5 years. The bill would allow the court to order preventive detention of the defendant pending trial if the court determines by clear and convincing evidence that no condition or combination of conditions of pretrial supervision will reasonably assure public safety or the appearance of the defendant in court.
And California, while first, isn't likely to be the last state engaging in such wholesale and wide-ranging changes to their criminal justice system. No longer a left-wing unicorn, independent Senator Bernie Sanders has introduced legislation which would eradicate cash bail systems across the country.
[image via Stephen Lam/Getty Images]
Follow Colin Kalmbacher on Twitter: @colinkalmbacher
Editor's note: this article has been amended for clarity.
Have a tip we should know? [email protected]