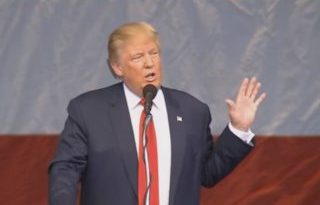 With just 10 days to go until the trial, President-elect Donald Trump just settled what are perhaps the most high-profile and well-known lawsuits against him. Trump has reportedly agreed to a $25 million payment to put the outstanding fraud lawsuits over his Trump University real estate courses to bed. Of the $25 million, $4 million will go to the New York Attorney General's Office for their case against Trump University, a source told Reuters.
BREAKING: Trump University agrees to settle civil fraud lawsuit for $25 million – source. https://t.co/SlLSA91zF0

— Reuters Top News (@Reuters) November 18, 2016
Earlier on Friday, the New York Daily News reported that an agreement was expected. According to their source, Trump will not admit any wrongdoing as part of the deal.
New York Attorney General Eric T. Schneiderman issued the following statement:
In 2013, my office sued Donald Trump for swindling thousands of innocent Americans out of millions of dollars through a scheme known at Trump University. Donald Trump fought us every step of the way, filing baseless charges and fruitless appeals and refusing to settle for even modest amounts of compensation for the victims of his phony university. Today, that all changes. Today's $25 million settlement agreement is a stunning reversal by Donald Trump and a major victory for the over 6,000 victims of his fraudulent university.

I am pleased that under the terms of this settlement, every victim will receive restitution and that Donald Trump will pay up to $1 million in penalties to the State of New York for violating state education laws. The victims of Trump University have waited years for today's result and I am please
This news came as both sides were going back and forth over whether or not the trial should be delayed. The Trump side was concerned about the presidential transition period needing his full attention, while the plaintiffs in the Low case countered that such an argument would be a slippery slope that could have been used while Trump is president, as well.
This article has been updated with a statement from the New York Attorney General.
David Bixenspan contributed to this report.
Have a tip we should know? [email protected]ime.com