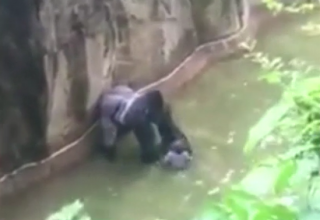 After Harambe, a 17-year-old gorilla, was killed when a 3-year-old child fell into his enclosure at the Cincinnati Zoo & Botanical Garden, LawNewz.com has learned that police are now investigating the child's family's actions prior to the accident.
According to the zoo's Facebook page, the child climbed through a barrier and fell 15 feet into a moat, before the 450-pound Harambe grabbed him and started throwing him around. Zoo personnel shot and killed Harambe to save the child, who was taken to the hospital and later released. The child was not seriously hurt. Harambe's species, the western lowland gorilla, is listed as "critically endangered," making his death particularly significant.
An online petition that already has more than 122,000 signatures is calling for the creation of "Harambe's Law," that would call for "legal consequences when an endangered animal is harmed or killed due to the negligence of visitors."
According to a case report, witnesses stated that Harambe appeared to be protecting the child before bystanders screamed, which agitated the gorilla. The gorilla then dragged him across the enclosure. In a statement, the Cincinnati police said:
This review is only regarding the actions of the parents/family that led up to the incident and not related to the operation or safety of the Cincinnati Zoo, which is under the purview of the United States Department of Agriculture (USDA).
State Senator Bill Seitz said that criminal charges against the child's family would be an overreaction, Cincinnati.com reported, and that while they could potentially be sued for negligence, he doesn't think the zoo will do that.
Have a tip we should know? [email protected]