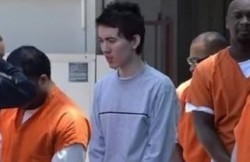 Justin Sullivan, who was accused of helping ISIL plan terrorist attacks, has now been indicted for the unsolved murder of his neighbor John Bailey Clark.
After Sullivan's June 19, 2015 arrest, the FBI searched for weapons at his home, tipped off by an undercover agent. Eventually, they found a crawl space with a .22 rifle, a black ski mask, a lock pick, and a silencer.
Authorities say the rifle was used to murder Clark, and a grand jury in Burke County agreed Monday. The 74-year-old man was found buried in a shallow grave December 2014.
Sullivan's father called 911 on his son last year for burning his religious belongings. They can be heard arguing throughout the call.
"You put gasoline in the house!" dad can be heard saying.
Sullivan, 19, faces seven federal counts, according to the Department of Justice: attempting to provide material support to ISIL (the Islamic State of Iraq and the Levant); receipt of a silencer in interstate commerce with intent to commit a felony; receipt and possession of an unregistered firearm; concealment and storage of a stolen firearm; use of interstate facilitates in the attempted commission of a murder-for-hire; and two counts of making false statements to FBI agents.
"According to allegations in the indictment, Sullivan attempted to provide material support to ISIL by acquiring weapons and planning to conduct deadly attacks on our soil," said Assistant Attorney General for National Security John P. Carlin. The feds say Sullivan planned to commit assassinations and mass shootings for the terrorist organization.
[image via screengrab TomoNews US]
–
>> Follow Alberto Luperon on Twitter (@Alberto Luperon)
Have a tip we should know? [email protected]