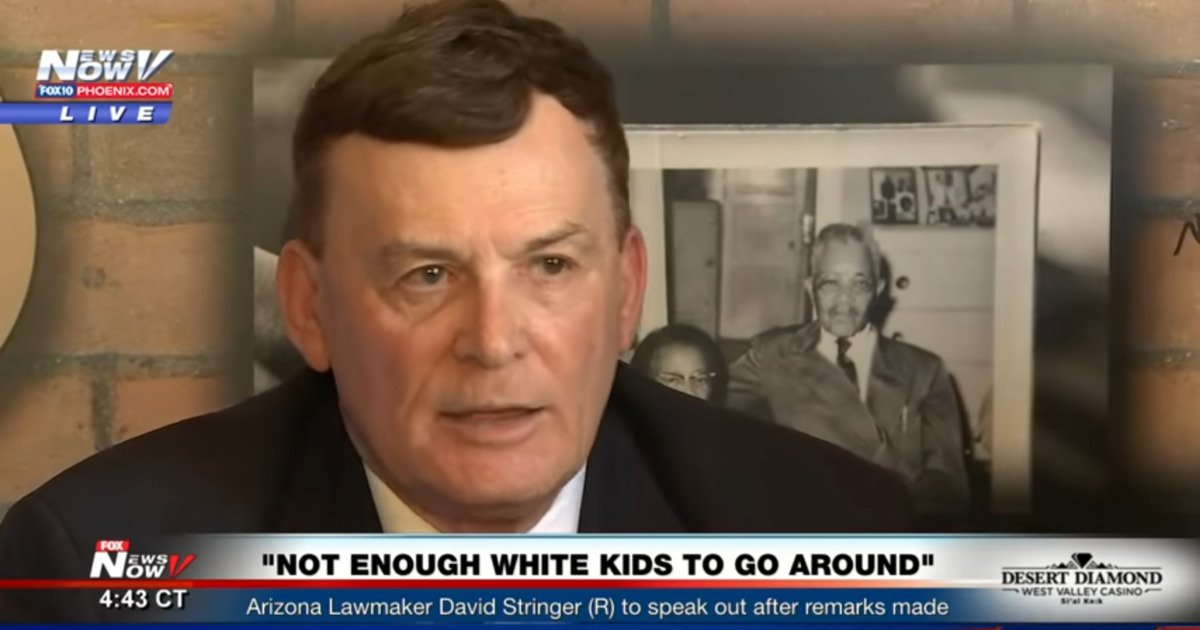 A Republican state representative in Arizona abruptly resigned on Wednesday after refusing to cooperate with a state ethics committee. Late Friday, documents released by the committee alleged that Rep. David Stringer paid two children for sex.
According to the Arizona Republic, Stringer was arrested in Baltimore in September 1983. A police report alleged that Stringer met a boy and his friend–both of whom were under the age of 15 at the time–in a park and propositioned them for sex sometime in 1982.
The police report also states that one of the boys Stringer is alleged to have paid for sex was developmentally disabled and that the Arizona Republican "should have reasonably known" about said disability. Additionally, one of the boys was 13 years old.
"(Name redacted) said that about a year ago he was in Patterson Park with a boy (name redacted) when a man stopped and asked if they wanted to go to his house and have some sex," the report notes.
Each boy claimed to have both received oral sex from and to have performed oral sex on the long serving Arizona Republican:
They did perform the sex act on Mr. Stringer … After this the boys were given ten dollars ($10.00) a piece and they left.
One of the boys, however, also told police that Stringer had repeatedly requested his presence after the initial encounter–for at least an additional 10 times–in order to perform oral or anal sex.
"(Name redacted) said that he has been back to see Mr. Dave at least 10 additional times since the first time," the report continues. "He said that each time he has been asked to perform acts of fellatio and sodomy with David Stringer."
The boy eventually told his father about the encounters–after a visit wherein he and Stringer allegedly had sex and showered together.
Stringer was arrested and charged with eight counts of various sex crimes. The 36-year-old Republican accepted a plea deal and was sentenced to five years of supervised probation. Stringer was "also required to seek admission to what appears to be a treatment clinic for sex offenders," according to the Republic.
Additional details, however, are scant because the case was expunged and most records were destroyed by judicial order in 1990.
Carmen Chenal is Stringer's attorney. In comments to the outlet on Friday, she said the police report was based on "unproven allegations." and chided Arizona State House investigators for inappropriately releasing the records while warning, "this is not over."
"The allegations … are false and Mr. Stringer denies them all," Chenal said. "He never committed a crime. He was never convicted."
Arizona State House Speaker Rusty Bowers, a Republican from Mesa, claimed the records led him to force Stringer's mid-week resignation.
"Upon reading the report, I was sickened," Bowers said. "This is very disturbing."
Democrats and Republicans in the Grand Canyon State came together to reject Stringer in a joint statement after the revelations were made public.
"This is not about politics," that statement reads, "it's about the safety and security of children."
Stringer previously ignited another round of controversy in the summer of 2018 when he claimed "there aren't enough white kids to go around" in Arizona's public schools.
[image via Fox 10 Phoenix]
Have a tip we should know? [email protected]