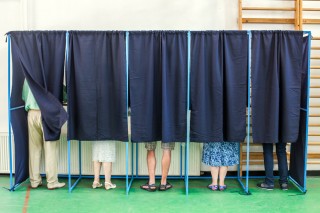 A New Hampshire law had barred people from taking selfies in voting booths, but now the First Circuit Court of Appeals says snap away. In a decision handed down on Wednesday, the court affirmed a district court decision, ruling that the ban was a content-based restriction on speech that violated the First Amendment.
The case drew some attention when social media platform Snapchat entered the fray with an amicus curiae (friend of the court) brief. Snapchat, which lets users take and send photographs that disappear in seconds, said in their brief that laws banning selfies in voting booths "impose real restrictions on expression and newsgathering as they have evolved in the 21st century."
New Hampshire's argument was that the law combated the potential buying and selling of votes. The Court of Appeals wasn't convinced that this was the way to go about it. "[T]here is a substantial mismatch between New Hampshire's objectives and the ballot-selfie prohibition," the Chief Judge Sandra Lynch wrote. The decision also noted that there was no evidence that vote selling was actually a problem that needed such a solution. "New Hampshire may not impose such a broad restriction on speech by banning ballot selfies in order to combat an unsubstantiated and hypothetical danger," the decision said.
Ultimately, New Hampshire could not show that they had a strong enough interest that required banning speech in this way. And yes, selfies are speech, as Judge Lynch concluded her decision by saying, "a picture is worth a thousand words."
[image via Shutterstock]
Have a tip we should know? [email protected]