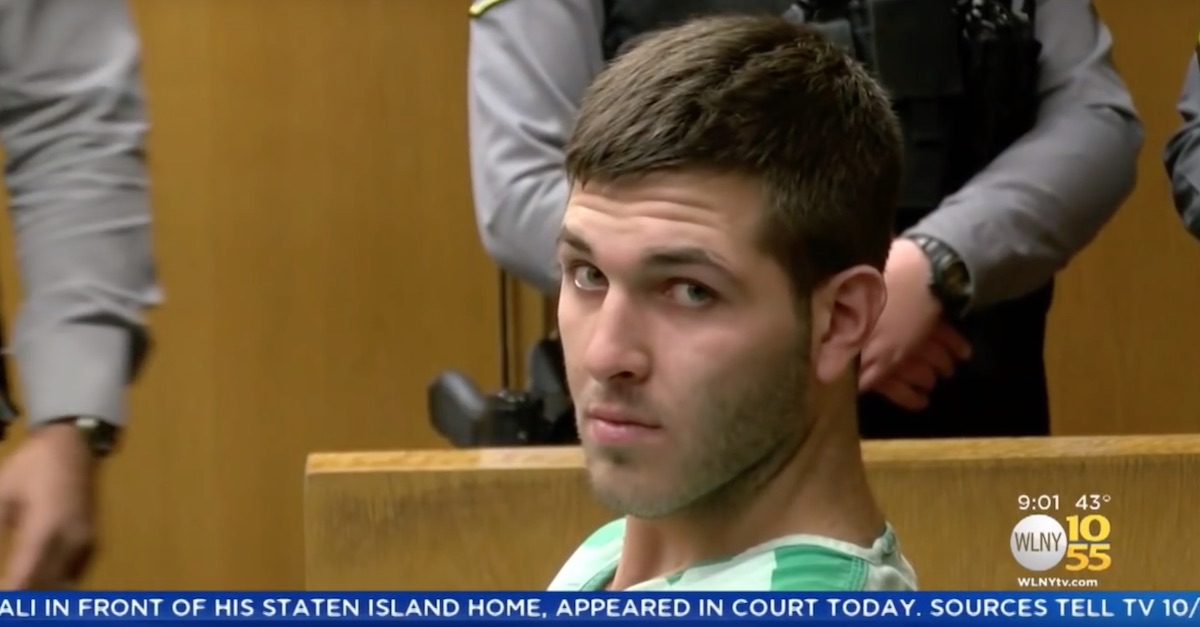 A 24-year-old man accused of a killing a mafia boss by gunning him down and running him over outside of his home was charged with murder on Monday. Anthony Comello, who recently showed up to court with "MAGA forever" and "United We Stand" written on his hand, was charged with murder, assault, and criminal possession of a weapon for a loaded firearm.
Comello allegedly murdered Gambino crime family boss Francesco "Franky Boy" Cali outside of his Staten Island home, leading to immediate suspicion that this was a mob hit.
So far, there has not been an indication that this was connected to organized crime. There is a theory that Comello did this to retaliate against Cali when he did not approve of Comello dating his niece. Cali apparently said Comello wasn't good enough for her. It's not clear if there's more to it than this or if there's another motive.
Comello's behavior of late is notable. On top of the "MAGA forever" court incident, Comello created an Instagram account as recently as October to vent about the Brett Kavanaugh confirmation hearings and other political subjects.
An anonymous friend said that Comello "had a secret Instagram" and "used to post crazy things about politics and Trump and Democrats."
"Horrible how they can try to ruin a man and his family name and it was all fake just to win. I hope you Dems never get power,'' Comello wrote in response to Dr. Christine Blasey Ford's sexual assault allegation against Kavanaugh. Another political post praised Trump and Vice President Mike Pence, saying, "This has been the greatest and amazing two years in this great country (THE UNITED STATES OF AMERICA) for god, for country, for family @realdonaldtrump @vp you rocked the world. We the people are blessed for your SELFLESS PATH FOR THE AMERICAN PEOPLE. THANK YOU."
The anonymous friend recalled Comello as a "good kid" in high school, but said he "hung out with the wrong crowd and did pills and smoked weed and got into fights but now it's like he's someone else."
"It's strange," the person said. Another friend said he wasn't sure if Comello knew who he killed and worried that he'd be a prime target in prison.
"I'm not sure if he knew who Cali was but I know that it was over a girl, and if you ask me, he wasn't all in the head," the person said. "And it's sad, because of who he killed, it's a matter of time before he's found dead in jail."
According to the New York Post, Comello confessed to the killing but "later shut his trap and lawyered up."
In the past, Comello, a construction worker who lives with his parents, reportedly tried to drum up support for a citizen's arrest of NYC Mayor Bill de Blasio.
[Image via CBS New York screengrab]
Have a tip we should know? [email protected]