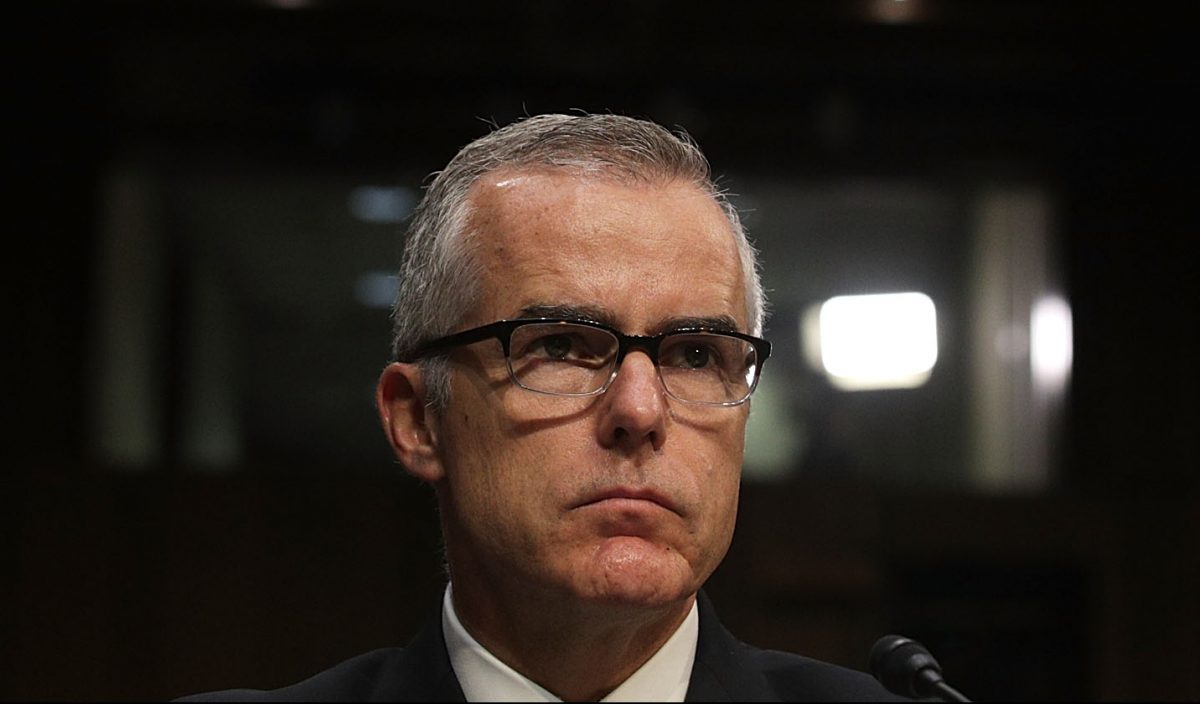 Andrew McCabe recently raised over half a million dollars from small donors by way of crowdfunding platform GoFundMe. McCabe's cash-collecting prowess was buoyed by several #Resistance-linked personalities and MSNBC's own Rachel Maddow, who suggested McCabe should run for office because he's so good at raising money.
Was this apparent "grassroots effort" actually a PR campaign put together by high-priced, well-connected, and experienced PR professionals in order to take advantage of the #Resistance's seething anger at the Trump administration? A Monday report in Slate suggested as much. Law&Crime can now confirm that some of those allegations are true, while some of them appear to oversell the issues at hand.
At or around 2 p.m. on March 29, "Friends of Andrew McCabe" launched a GoFundMe page to raise money for the "Andrew McCabe Legal Defense Fund." The unidentified author(s) of the GoFundMe described the reason for their fundraising effort as follows:
Unfortunately, the need for a legal defense fund is a growing reality.  Media reports indicate that at a minimum, there are a number of congressional inquiries that he will be required to respond to, as well as the broader Office of the Inspector General (OIG) investigation that is ongoing, and any potential lawsuits he might consider.
Melissa Schwartz is a crisis and communications consultant who currently works for The Bromwich Group. After previously working for then-Senator Barbara Mikulski, the Department of Justice, and the Bureau of Ocean Energy Management, Regulation and Enforcement (where she served under her once-and-future boss), Schwartz joined The Bromwich Group as their chief operating officer in 2012. She's also McCabe's present spokesperson.
The Bromwich Group is a K Street consulting and PR firm headed by Michael R. Bromwich. Immediately prior to founding the firm, Bromwich served as the first director of the Bureau of Ocean Energy Management under President Barack Obama. As a former mineral extraction regulator, Bromwich promised that his firm would never lobby for energy industry clients. Prior to this role, Bromwich served as the Inspector General for the Department of Justice under President Bill Clinton.
Employed by the law firm Robbins, Russell, Englert, Orseck, Untereiner & Sauber LLP, Bromwich also currently serves as Andrew McCabe's lead attorney.
Bromwich has said little–aside from expressing gratitude on McCabe's behalf–about the wildly successful fundraiser. Schwartz, on the other hand, has been dogged in her support for and promotion of McCabe's GoFundMe campaign. Schwartz initially took to social media in order to discredit non-sanctioned crowdfunding accounts allegedly set up on McCabe's behalf. In a March 17 tweet, she wrote:
Please help circulate: while it is a kind gesture, there is no "gofundme" or other crowdfunding account for Andrew McCabe. Because of the outpouring of support, we are exploring potential options for a legal defense fund. More to come.
More was indeed to come. On March 29, Schwartz sanctioned the official GoFundMe campaign by tweeting, "Correct. We launched the official campaign today." Later that same day, in response to suspicion about the veracity of the fundraiser, she tweeted, "That is the official campaign we launched today." (Notably, Schwartz is also the person who issued the Monday statement announcing the legal defense fund would stop accepting donations–after repeatedly shifting its initial $150,000 goal upwards.)
Ben Mathis-Lilley, writing in Slate, noted a potential conflict of interest here. He writes:
In other words, the PR and lobbying firm Andrew McCabe's lawyer founded is helping promote the small-donor fundraising effort to pay Andrew McCabe's lawyer.
Law&Crime reached out to both Schwartz and The Bromwich Group. Schwartz disputed that The Bromwich Group was a lobbying firm of any sort–no registered lobbyists are currently employed there and Schwartz said the firm doesn't engage in any unofficial lobbying either.
But who is the "we" that started the legal defense fund? Schwartz confirmed in an email that The Bromwich Group did assist in setting up the GoFundMe on McCabe's behalf. She said, "It is customary for personnel associated with a client's legal and communications teams to field various inquiries from outsiders. In this case, it required his team to respond to the inquiries from Gofundme." She continued, "His team concluded that we needed to make sure that people who wanted to assist Mr. McCabe had a legitimate outlet to do so."
As for the "Friends of Andrew McCabe?" That's still not entirely clear. Schwartz said the GoFundMe campaign was started after GoFundMe contacted McCabe's team about various "fraudulent accounts" started in his name. Schwartz then elaborated:
In the days following Mr. McCabe's firing, he received scores of communications asking for a place to donate to his legal defense and/or pension…His team worked with GoFundMe to facilitate the receipt of donations from the flood of people who wanted to help him. Friends of Andrew McCabe is the group of family, friends and colleagues who wanted to aid in that effort.
This is an interesting statement because the official GoFundMe campaign explicitly says it's not related to McCabe's pension trouble. Schwartz also stated that McCabe's legal and PR team have been representing him "pro bono" and that "They have not received a dollar to date for their efforts."
Law&Crime followed up for a more precise idea of who "Friends of Andrew McCabe" might be and why pro bono legal efforts necessitated such a hefty fundraiser. Schwartz refused further comment on who exactly makes up the aforementioned group and clarified that such "activity has been pro bono to date." Schwartz then referred back to the fundraiser and cited the need for further representation.
When asked to whom exactly the raised funds would go–if not Bromwich–Schwartz declined to answer.
[image via Alex Wong/Getty Images]
Follow Colin Kalmbacher on Twitter: @colinkalmbacher
Have a tip we should know? [email protected]