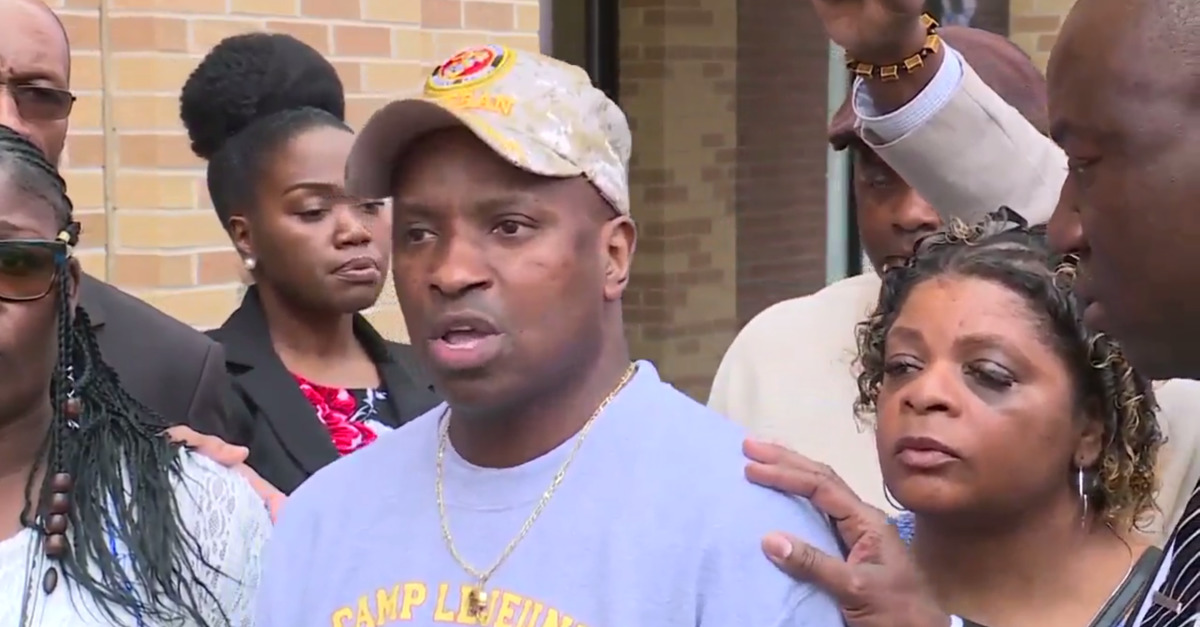 Alabama police shot Emantic "E.J." Bradford Jr. in the back on Thanksgiving night. He was hit by three bullets in the head, lower back and neck as he fled from an altercation he didn't start. Before that, Bradford had been protecting patrons from another man's bullets during a shooting incident at the Riverchase Galleria mall.
The 21-year-old military veteran instantly died from his police-inflicted wounds. On Tuesday, the officer responsible for Bradford's death was cleared of any and all wrongdoing. The shooting was ruled justified.
"Alabama Attorney General Steve Marshall today informed the Hoover Police Department and the Alabama State Bureau of Investigation that he has concluded that the Hoover police officer who shot and killed Emantic 'E.J.' Bradford Jr. at the Riverchase Galleria mall on November 22, 2018, did not commit a crime under Alabama law and thus will not be criminally charged for his actions," a statement from the Yellowhammer State's top law enforcement officer reads.
Immediate reaction from Bradford's family was swift and negative.
Emantic Bradford, Sr. addressed Marshall's decision at a press conference:
This don't make no sense. I spent 20 years in the Marine Corps defending this country. Worked at the Birmingham City Jail over 26 years–dealing with law enforcement. And this is bull crap that I told you was going to happen from the start. Attorney Marshall, you're full of it. But you sent your flunkies down here to talk to me and his mother. You ain't got the nerve or the balls to come down here and say nothing in my face. You knew then you couldn't come down here. You're wrong. My son was murdered. And you think I'm going to let it go? And you've still got this clown on the payroll in Hoover? All of y'all are wrong. My son was murdered. That was a homicide.
"You whitewashed this case," Bradford continued. "You covered it up."
The grieving father went on to compare Marshall to infamous Alabama racist Bull Connor–the Birmingham County commissioner of public safety who fired water hoses and sicced police dogs on black children and other civil rights activists during the Southern Christian Leadership Conference's Birmingham campaign of 1963.
"You ain't no better than him," Bradford said. "So your name will go down in history."
The American Civil Liberties Union (ACLU) of Alabama took a similarly combative tone when addressing Marshall's controversial decision.
"No matter what the AG's report says, #EJBradford's life mattered," the civil liberties organization said on Twitter. "Black lives matter. We won't stay quiet when police inflict lethal violence against Black people and attempt to 'justify' it."
The Hoover Police Department's justifications have taken various permutations in the immediate aftermath of the shooting.
Initially, Hoover police blamed Bradford for his own death and claimed that he had started the altercation by taking out his gun during and firing. Police also applauded the "heroic" actions of the officer who killed Bradford that night. Later, police retracted their claim. The actual suspect was arrested a full week later in Georgia.
During the investigation, police refused all attempts to release either the surveillance footage from the mall or the official autopsy results, saying that it would be "premature to do so." This decision stoked cries of a cover-up.
On Tuesday, Marshall's office released 14 seconds of hectic surveillance footage which doesn't appear to offer much insight.
"After an extensive investigation and review, the Attorney General has determined Officer 1 did not commit a crime under Alabama law when he shot and killed E.J. Bradford and thus the Alabama Rules of Professional Conduct preclude presentation of this case to a grand jury," the 24-page report notes.
"The fact that Officer 1 mistakenly believed that E.J. Bradford fired the initial two shots…does not render his actions unreasonable," the report adds.
The legal justification for Bradford's death isn't likely to calm community tensions, given the findings of an independent autopsy report. Attorneys for his family have long maintained that Bradford was murdered.
"Alabama," Bradford's father said before a brief pause. "We're in Alabama–it's still cool to kill a black man."
[image via screengrab/WVTM]
Have a tip we should know? [email protected]