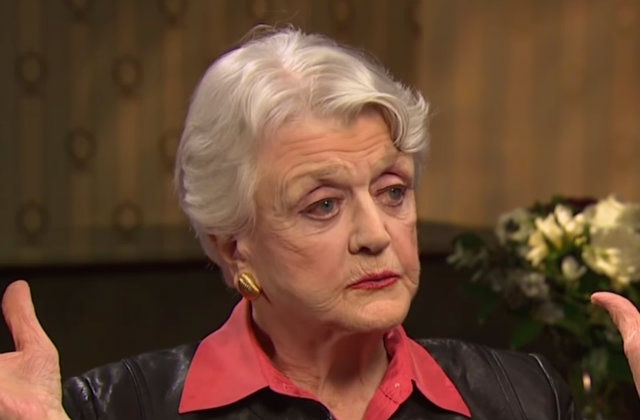 Angela Lansbury: legend. We can all agree on that. The actress has been working on stage and screen for the better part of a century, so people listened when she weighed in on sexual misconduct. And man, it did not go over well.
Here's what she said in a Radio Times interview published Tuesday.
There are two sides to this coin. We have to own up to the fact that women, since time immemorial, have gone out of their way to make themselves attractive. And unfortunately it has backfired on us – and this is where we are today. We must sometimes take blame, women. I really do think that. Although it's awful to say we can't make ourselves look as attractive as possible without being knocked down and raped.
He said individual victims shouldn't take blowback, however.
"Should women be prepared for this?" she said. "No, they shouldn't have to be! There's no excuse for that. And I think it will stop now – it will have to. I think a lot of men must be very worried at this point."
Her comment about "blame" wasn't…well received. Here are emblematic tweets.
Angela Lansbury, star of the 1944 version of Gaslight, which gave us the term 'Gaslighting', has just declared that attractive women share the blame for sexual harassment. pic.twitter.com/x3ruL22cIR

— Dr Fern Riddell (@FernRiddell) November 28, 2017
Just NO #AngelaLansbury. You have gotten so many things spectacularly right throughout your brilliant career. This you got spectacularly WRONG. Angela Lansbury: attractive women 'must sometimes take the blame' for sexual harassment' | via @telegraph https://t.co/JuhyC6aEw3

— Christine Lahti (@ChristineALahti) November 28, 2017
Looking forward to the new season of Murder she wrote where Lansbury just looks at dead bodies and says 'If you didn't want to get stabbed you shouldn't have dressed so stabby'

— TechnicallyRon (@TechnicallyRon) November 28, 2017
This isn't to say Lansbury lacked defenders. Some tried to put what she said in context, even as they rebutted her statement.
Angela Lansbury is 92. She's not woke by the standards of Twitter posturing. She's older than some countries. Chill.

— MZS (@mattzollerseitz) November 28, 2017
Angela Lansbury's comments show an attitude that does real harm. But most of all I feel very sad for her and all the other women who have lived by these rules and placed blame at their own door and I think reactions should contain compassion and reflection on generational change.

— Laura Waddell (@lauraewaddell) November 28, 2017
reading what Angela Lansbury actually said, her comments are misguided but don't strike me as malicious. pic.twitter.com/DH3PCxTVoi

— eve peyser (@evepeyser) November 28, 2017
As far as Twitter dog-piling is concerned, the responses seem pretty mild. In October, The New York Times published a bombshell report showing that movie mogul Harvey Weinstein settled sexual harassment claims with eight women. That snowballed, with dozens of women publicly making allegations against him. This included claims of sexual assault. (He denied the assault claims, and a separate harassment allegation by actress Lupita N'yongo. He didn't clearly address other individual claims.) Since then, you've got high-profile claims against men in the news media, entertainment, and politics. Allegations involving male victims have popped up as well because of groping claims against actor Kevin Spacey. He also denied the accusations.
[Screengrab via CNN]
Have a tip we should know? [email protected]